England Defender Ashley Cole Agrees New Contract At Chelsea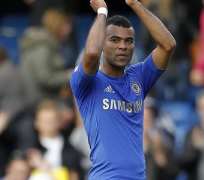 Ashley Cole has reached an agreement on a new contract at Chelsea.
While the deal has not yet been officially signed, the formalities are expected to be completed early next week, with reports suggesting the contract is a one-year extension.
The news ends speculation about the 32-year-old's future. His current deal is set to expire at the end of the season.
Frank Lampard is also out of contract at the end of the season, but looks increasingly likely to leave Chelsea.
Despite coming towards the end of a glittering career, Cole is still regarded as one of the best left-backs in the world.
He has won 99 England caps and has been a fixture in the Chelsea defence since moving to Stamford Bridge from Arsenal in 2006.
Since what was widely regarded as a controversial move, Cole has won one Premier League title, four FA Cups, one League Cup and last May lifted the first European Cup of his career.
BBC SPORT