Chinese, U.S. Data Push Global Shares To Twenty-Month High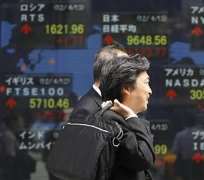 World shares hit a 20-month high on Friday as encouraging data from the United States and China boosted prospects for the global economy, while the yen hit new lows ahead of next week's Bank of Japan meeting.
China's economy grew at a slightly faster-than-expected 7.9 percent in the fourth quarter of 2012, the latest sign it is pulling out of a post-global financial crisis slowdown that produced its weakest year of economic growth since 1999.
The positive news came on top of strong U.S. labor and housing market reports on Thursday, providing fresh impetus to a recent strong and broad financial market rally.
MSCI's index of leading world shares .MIWD00000PUS was at it highest level since May 2011 at 551.90 points as trading got underway in Europe and after Tokyo and Hong Kong stock markets surged and the S&P 500 in New York hit a five-year high.
"We've got good numbers out of China, we had some good numbers out of U.S. yesterday ... The general sentiment is pretty good," said Neil Marsh, strategist at Newedge.
"There will probably be some phases of consolidation as we go forward, but the markets remain pretty resilient. More people are putting their cash to work now in riskier assets like equities, and there is no sign of that stopping at the minute."
European stocks opened higher, with London's FTSE 100 .FTSE, Paris's CAC-40 .FCHI and Frankfurt's DAX .GDAXI up between 0.2 and 0.3 percent .L.EU.N. The region's data highlight of the day comes from British retail figures.
Industrial commodities jumped, leaving platinum and palladium near multi-month highs hit on Thursday, while oil prices edged up, with U.S. crude up 0.1 percent at $95.61 a barrel and Brent futures adding 0.2 percent to $111.27.
YEN SLIDE RESUMES
The strong U.S. data and mounting expectations for more aggressive easing by the Bank of Japan (BOJ) next week lifted the dollar to its highest since June 2010 of 90.21 yen, and the euro to its peak since May 2011 of 120.73 yen.
The single currency was steady against the dollar at $1.3378.
Expectations that the new Japanese government will pursue massive fiscal spending and push for more aggressive BOJ easing to drive Japan out of years of deflation and economic slump have spurred heavy yen selling since November.
Sources told Reuters the BOJ will at its January 21-22 meeting consider removing the 0.1 percent floor on short-term interest rates and commit to open-ended asset buying until the 2 percent inflation target is reached.
In bond markets, German two-year government bond yields rose 0.25 percent to near their highest in nearly 10 months, with traders citing growing concerns in money markets over early bank repayments of three-year European Central Bank loans.
Banks can start making repayments on January 30, and the ECB will publish how much will be repaid then on January 25. A larger-than-expected repayment of around 400 billion euros would effectively tighten conditions and push up interbank rates.
REUTERS