Analysis: More Americans Leave Parental Nest In Boost For Housing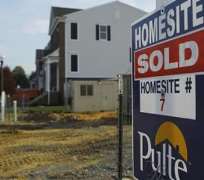 Americans are feeling increasingly confident in the future and more and more are striking out to set up their own homes, a move that is helping propel the housing recovery.
The deep financial crisis and recession of 2007-2009 kept many Americans from leaving their parents' nests and drove others back into them, putting a sharp brake on the pace at which new households formed.
Household growth averaged about 500,000 per year from 2008 through 2010 - less than half the rate seen at the height of the housing boom in the years just before that. The pace in 2010 was the weakest since 1947.
But the rate at which individuals or families are getting their own homes picked up over the past two years, underpinned by a steady if tepid economic recovery and gradual labor market gains. In 2011, households increased 1.1 million and they grew closer to 1.2 million last year.
"The rise in household formation bodes well for the housing recovery. Instead of having too many houses, we are turning to a situation where there aren't enough," said Guy Berger a U.S. economist at RBS in Stamford, Connecticut.
Indeed, housing has turned from the economy's sorest spot to its brightest, with new building activity at 4-1/2-year highs. Housing activity in turn spurs related areas like furniture.
That is because of people like Linna Chhean. After graduating from college in May 2007, she moved back in with her parents, helping out in a family-run business.
The 27-year-old finally moved into her own one-bedroom apartment four weeks ago after she was hired as a designer in the Dallas offices of a global public relations firm.
"I wanted to get a job in my field, which is art. I was working for them in a convenience store, which is not what I wanted to do at all," said Chhean.
BRIGHTENING PROSPECTS
The worst recession since the Great Depression of the 1930s cost the economy 8.8 million jobs and drove the unemployment rate up to 10 percent.
Dim job prospects and growing financial stress undercut the pace of household formation - a central force behind housing demand - even though the population kept growing at a rate of about 2.7 million per year.
Republican vice presidential candidate Paul Ryan seized on the dashed hopes of young Americans in bashing President Barack Obama's policies at the Republican national convention in August.
"College graduates should not have to live out their 20s in their childhood bedrooms, staring up at fading Obama posters and wondering when they can move out and get going with life," he said.
An analysis by economist Timothy Dunne at the Cleveland Federal Reserve Bank found there was a shortfall of 2.6 million households from 2008 through 2011 compared to what pre-recession trends would have suggested.
Younger adults between the ages of 18 and 34 accounted for almost three quarters of this gap; the number of people in this age cohort living with their parents increased by 2 million between 2007 and 2011.
But the tide appears to be turning.
Last August, Edward Kennedy, 22, moved into his own apartment in Bridgeport, Connecticut, after landing a job at Sacred Heart University's undergraduate admissions office.
"I moved home after graduating in May 2012. It seemed like the best idea to save some money," said Kennedy. "I plan on getting my MBA over the next year and a half, while working at the university."
He said more and more of his peers were likewise setting out on their own.
HOUSEHOLD GROWTH BOOSTS RENTAL MARKET
The gains are being felt primarily in the rental market, where rising demand has spurred a sharp pick up in construction of apartment buildings. In contrast, the U.S. homeownership rate hasn't risen much from a 15-year low reached in early 2012.
"We are going to see more recovery in the rental market, in the very short run. As the market improves, people will start to face higher rents and over time, that will spill over into the owner-occupied market," said Gary Painter, a public policy professor at the University of Southern California.
New home completions have lagged the increase in household formation, leading to a tightening supply.
According to RBS' Berger, more than 1.3 million new residential structures should have been completed last year to keep pace with household growth. But only 651,400 homes were finished, the second lowest on record.
"Given that the stock of homes available for sale is already very low, inventories alone are unlikely to meet the demand presented by these new households," said Berger.
A monthly survey conducted by the National Association of Home Builders shows that growing demand and tightening supply have pushed homebuilder sentiment up to a near seven-year high.
NAHB Chairman Barry Rutenberg, a home builder from Gainesville, Florida, said builders were now gearing up, unperturbed by the possibility that banks could dump an increasing number of foreclosed homes onto the market as conditions improve.
"Even if we have a wall of supply coming in, we will have a wall of demand to balance it," he said.
Rutenberg estimated 916,000 new residential projects would be started this year, compared to 780,000 in 2012. And Rutenberg expects rising demand to keep builders busy for years to come.
He said new construction would satisfy about 46 percent of the demand for single-family homes this year, and 83 percent of the demand for apartment buildings over the next 10 years.
Although home building accounts for only about 2.5 percent of U.S. gross domestic product, economists believe the turnaround in the housing market has just enough momentum to take over the baton from manufacturing as a driver of growth.
Economists estimate that for every new single family home constructed, at least three permanent jobs are created. There is also a boost through demand for items ranging from furniture to paints.
"Housing will take a leading role. We anticipate that (inflation-adjusted) residential investment will grow 22 percent this year, the fastest since the early 1980s," economists at JPMorgan wrote in a research note.
They estimate homebuilding could add around 0.5 of a percentage point to economic growth this year.
REUTERS