Fish Farming As Panacea To Youth Unemployment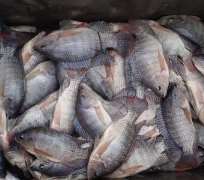 Senator Chris Anyanwu, one of Nigeria's best known media entrepreneurs and the Senator representing Owerri, Imo State Senatorial Zone in the Senate of the Federal Republic of Nigeria has just made a ground breaking revelation whereby she stated that foreign vessels invade Nigeria's maritime territory to cart away fishes worth several billions of money on yearly basis.
Witty, Sharp and very articulate, Chris Anyanwu, one of the few female Senators in the current political dispensation spoke in an interview with a national daily in which she also called serious attention to the institutional neglect suffered by the Nigerian Navy and also the need to harmonize the legislative frameworks guiding the operations of the multiple government agencies in the nation's maritime territory which she aptly described as chaotic.
Speaking specifically on the fish resources that are daily stolen from Nigeria's high seas by well armed foreign hoodlums, Senator Anyanwu who is the senate committee chairman on Navy stated emphatically thus; "A lot of our fish stock is stolen in this country. Nobody talks about it.
We talk about crude oil. The fish stock stolen is enough to give us the roads that we don't have but when you look at it side by side with crude oil that is stolen, its pales so we don't talk about that. But at some point once we get action going at sea, we have the right vessels, the right support, we have the right linkages, some of those things would cease to happen at least, gradually. It is not going to happen overnight".
Reading the above explosive revelation by an authoritative person who should know, one thing struck my sub-conscious and I began to reflect on the potentials of government and other good spirited stakeholders encouraging and enthroning the enabling environment including provision of strategic working capital, grants and the fixing of rural infrastructure to enable the young university graduates roaming the streets of our few cities searching endlessly for the non-available white collar jobs, to venture into investing in fish farming as a viable alternative source of job opportunity and creation of wealth because from all available scientific data, Nigeria is a potentially huge market whereby fish farming can thrive and indeed can create millions of jobs for our youth and help reduce the national tragedy that has become youth unemployment.
Besides creation of rapid youth employment opportunities, massive fish farming by the Nigerian youth will also bridge the yawning gap in meeting Nigeria's protein sources to improve the living condition of the populace.
Grema, H. A; Geidam, Y.A.; and Egwu, G. O; very distinguished animal science scholars wrote a piece titled "Fish production in Nigeria: an update", published in the volume 32, issue 3 edition of "Nigerian veterinary Journal", the most authoritative voice on animal science sub-sector in Nigeria.
These scholars argued that; "In recent times, veterinarians and animal scientists have contributed to the development of techniques to increase the sources of animal protein in order to supplement existing sources of protein".
Fish is an important source of protein and provides about 40% of the dietary intake of animal protein, with the need for self reliance at both national and grass root level, fish production offers a good potential if properly adopted, so argued the animal science scholars.
Additionally, according to these academics, increase in small scale aquaculture projects in towns and villages will create employment and alleviate poverty. Fish production involves controlling culture environment and rearing fish in captivity; to enhance production and prevent diseases and predators as well as good husbandry management practices.
However, the main factors affecting aquaculture in Nigeria, according to the tripple scholars, include extreme climatic conditions, flood, water pollution, ignorance and lack of adequate technology, other factors working against the sub-sector are also, lack of loans and grants, fish diseases and problems of preservation.
Despite all those challenges, these scholars believe that fish production has the potential to expand the national resource base, generate foreign exchange and elevate the socio-economic status of fish farmers.
The current minister of Agriculture and rural development Dr. Akinwumi Adesina is a very well respected activist in the field of Agriculture. He has on different occasions, publicly voiced his determination to encourage the Nigerian youth to embrace fish farming as a dignifying professional career which will economically empower them and transform them from serial job seekers to respectable creators of wealth and employment opportunities for themselves and millions of other persons in their age group.
Dr. Adesina as the minister of Agriculture and Rural Development is expected to roll out practicable strategies on how government and other stakeholders can contribute positively to provide the much needed working capital by way of grants to enable willing Nigerian youth to embrace fish farming in the coming days.
But the minister of Agriculture who spoke at the 27th Annual general meeting of fisheries society of Nigeria which took place in Yenogoa, Bayelsa State last year, however stated that fish farming has the enormous potentials for wealth creation and sustainable jobs for the millions of young university graduates seeking for jobs.
According to the minister, the current situation whereby Nigeria spends about N97 billion on the importation of 700,000 metric tonnes of fish annually, is no longer acceptable.
Describing the development as unacceptable and unsustainable, Agric minister said importation of fish constituted a huge drain on the national foreign exchange resources. He emphasized the need to harness the full potential of aquaculture which he said would lead to the production of 2.66 million metric tonnes of fish annually in Nigeria to meet national fish protein requirement.
"Nigeria currently produces 680,000 metric tonnes of fish from local sources including 200,000 metric tonnes from aquaculture. This is less than 10% of the total potential", he said.
From the above facts, it is clear to state that Nigeria needs to immediately set in motion mechanism on how the presidency can direct the ministries of Finance; youth Affairs; agriculture and rural development and labour and productivity to commence the implementation of a national policy on the promotion of involvement of the Nigerian youth in the fish farming sub-sector as one pragmatic panacea to the disturbing menace of youth unemployment which constitutes grave threat to our national security as can be seen from the involvement of our younger citizens in sophisticated crimes of kidnapping for ransom payment; terrorism and other organized crime.
In a well written piece ran in the Thisday Newspaper edition of July 3,2012, titled "Fish farming is a lucrative business", the author gave well loaded and articulate reasons why Nigerian government should empower the Nigerian youth to embark on commercial fish farming.
According to this writer; "Nigerians are large consumers of fish and it remains one of the main products consumed in terms of animal protein. Study has shown that only around 50 percent of demand for fish is currently being met by local supply. The fishery sector is estimated to contribute 3.5 percent of Nigeria's Gross Domestic Product (GDP) and provides direct and indirect employment to over six million people".

The writer made the disclosure that despite the popularity of farming in Nigeria, the fish farming industry can best be described as being at the infant stage when compared to the large market potential for its production and marketing. This is mainly due to unavailability of fingerlings owing to lack of adequate infrastructure for hatcheries for fingerling production, so submitted the writer.
The Federal Government however has disclosed recently that Nigeria is saving N300 million annually from the substitution of imported fish feeds, with an estimate of 25 percent of the 45,000 metric tonnes imported into the country.
Minister of Agriculture and Rural Development, Dr. Akinwunmi Adesina, stated this while speaking at the Ministerial Platform in commemoration of the 2012 Democracy Day celebration and the first anniversary of President Goodluck Jonathan administration in Abuja.
Adesina, who revealed that the country spends at least N117.7 billion annually on the importation of fish feeds, said four major investors in the feeds production had been identified to increase capacity to meet local demands.
He identified the investors as Grand Cereals in Jos, Plateau State; Durante in Oyo State; Wonder Feeds in Kaduna State, and Multifeeds, an Israeli company; all of which he said had declared their interest in the massive feeds' production.
The minister also stated that government has completed the training of 120 potential investors in the new all male Tilapia production technology to improve total yield.
From the look of things as clearly published in the aforementioned essay, the Nigerian government's approach to fish farming is at best cosmetic and elitist. The Nigerian government must go to the drawing board to work out strategies to attract young Nigerians and also get financial institutions to provide soft loans and grants to enable them embark on huge commercial fish farming.
The federal ministry of works must also actively partner with the 36 states ministry of works to ensure that there is a workable national synergy for reviving rural roads infrastructure so that these young fish farmers will find it less cumbersome to transport their produce to the markets.
Government also should ensure that local industries and factories including hotels are compelled by law to patronize theses fish products even as emphasis must be shifted away from importation. The National Assembly and the Nigeria's Governors' forum have great roles to play to actualize this objective.
The Federal government must also implement effective and efficient pro-active security measures to protect our marine resources.
A national daily on January 14th 2013 revealed that Nigeria loses so much of our fish resources to foreign thieves, thus confirming the revelation made by Senator Chris Anyanwu earlier.
The local media reported thus; "The incursion of foreign trawlers in the fishery segment of the maritime industry is also making Nigeria to lose about N300 billion as a result of inadequate protection of our waters. Instead, we now depend on importation. Right now, Nigeria imports between 700,000 and 900,000 metric tons of fish yearly to partially meet a shortfall of about 1,800,00 metric tons".
The newspaper stated that stakeholders say the fishing industry is at the brink of collapse, owing to the dangers of pirates and foreign trawlers. With huge maritime potential of a coastline measuring about 853 kilometers, Nigeria should be self-sufficient in fish production and able to export aquatic foods."
Local media wrote that the Nigeria's Finance minister Mrs. Okonjo-Iweala said the security threats in the Gulf of Guinea of which Nigeria is a major stakeholder had steadily risen from 45 per cent in 2010 to 64 percent in 2012 threatening Nigeria's more than 600 million potential in fishing business. He added that the development has created major economic problems for the country and should be urgently addressed.
Recently, because of the incessant attacks on fishing crews, the Nigerian Trawler Owners Association (NTOA) reportedly called its fleet of over 200 trawlers and 20,000 workers back to the shore, leading to a shortfall in fish supply.
According to NTOA, foreign trawlers from European and Asian countries come to the nation's coastal areas to raid tones of fish, they come with better industrial trawlers that can stay at sea for weeks and even months, equipped with ice boxes, so revealed the national daily.
Specifically, the International Maritime Bureau (IMB) said piracy figures and attacks worldwide continue to rise, and cases of death are always recorded, stating that this is a major challenge to the world. Nigeria should therefore check this menace so as to make the fish farming subsector beneficial to the national economy.
* Emmanuel Onwubiko, Head, HUMAN RIGHTS WRITERS' ASSOCIATION OF NIGERIA, [email protected]