Oshiomhole Slams Airhiabvere, Describes PDP Challenger As Political Neophyte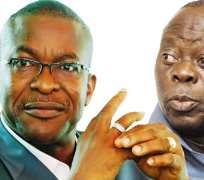 SAN FRANCISCO, January 14, (THEWILL) – Governor Adams Oshiomhole of Edo State, Monday, slammed his People's Democratic Party (PDP) main challenger, Felix Airhiabvere, describing him as a political neophyte who could not even win in his own ward.
Oshiomhole stated this at the Presidential Villa, Abuja, where he, along with his Anambra and Delta States counterparts, Peter Obi and Emmanuel Uduaghan, respectively, met President Goodluck Jonathan in a closed door meeting.
Also describing his main challenger in the July 14, 2012 governorship election as a dishonest politician who wasted his time trying to find fault in his academic credentials, Oshiomhole maintained that politically, Airhiavbere was not his match because he could not even deliver the polling booth in his area.
The Edo State governor, who lamented that Airhiavbere wasted his time and the precious time of a court pursuing a mandate that he knew was never his, however hailed the judiciary for being upright in its delivery of the judgement in his favour.
He said the judgement has really negated what his detractors had in stock for him, which, according to him, was to make him lose his job just as it was done during his days of activism in the Nigeria Labour Congress (NLC).
"For a man who went to Auchi Polytechnic to challenge an Oxford product was shocking to me.He attended NIPSS 21 years after I attended the same institution and I made a B+. So, what is he talking about?,"Oshiomhole said.
According to the Edo governor, "This is a man who was dismissed from the Army in questionable circumstances. This is a man who was asked to refund billions of naira to the Army, having misappropriated some funds meant for a military hospital.And after his dismissal, he quickly became a PDP candidate even though he was not a member of the party for up to two years in line with its rules as he bought his way through.
"I am not a first term governor. I am a second term governor, so I wonder how the same certificate that qualified me for my first election should not qualify me for a return.
"Anyway, my people have even been saying if a man who didn't attend school can think and act the way I do, then, may be we should abolish education."
It would be recalled that the Supreme Court had on Friday threw out an application filed against Oshiomhole by Airhiavbere. The apex court had also adjourned till Friday to rule on whether it was proper to compel the Edo State governor to prove the authenticity of his educational qualifications before the Election Petition Tribunal sitting in the state.
The court set aside the ruling of the Court of Appeal which it said was done in error.
Oshiomhole had challenged the appellate court in Benin which had ruled on an application filed by Airhiavbere in the election, that there should be a retrial of the petition that queried Oshiomhole's educational qualifications.
The PDP candidate had claimed that the certificates used by Oshiomhole in obtaining clearance from the Independent National Electoral Commission (INEC) were bogus and as such, Oshiomhole was not eligible to run for both the 2007 and 2012 elections.
Though the Election Petition Tribunal led by Justice Suleiman Ambrusa had earlier dismissed the contention of the petitioner as baseless, the appellate court, on November 15, 2012, maintained that the PDP candidate's application had merit and should be heard afresh.