Comedian Okey Bakassi's Letter To God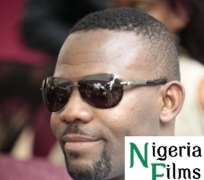 We know Nollywood comedian Okey Bakassi is a funny man, but this time around, he's gone religious!!!
Read his letter to God and let's have your take:

Dear Almighty Sir,

I don't know what time it is in your area so I'll simply say good day Sir. I'm very grateful for making me experience 2013 and I'm sorry for all my sins in 2012.
I would have promised not to sin in 2013 but I don't want to lie because you already know my future.
Please help me be a better and more successful person this year. Also protect and bless my family, friends and fans.

I hereby present some personal issues before you:
1. Will Nigeria be better this year or ever? If no I seek your approval to go and take up citizenship somewhere else but if yes be fast before they empty our treasury and our oil wells run dry.
2. Please help us with the exchange rate. Help de Naira catch up with the dollar.

3. Have you relocated Hell to Nigeria? If no, what are Boko Haram and Kidnappers doing here?
4. Do we allow GEJ do another term? If no please do something before we 'Occupy Everywhere'.
5. Adjust the brain of our youths so that their savings will end up in bank accounts not boutiques and night clubs.

6. There are more diseases now than brands of condom available. What do we do? Urgent answer required.
7. Please is your son coming soon? We have forgotten the meaning of true love since the last time he came.
8. Please I need your BB pin if possible, I want to send you pictures and links of what pastors and government officials are doing with our money. I guess you already know.

On behalf of my wife and children I say thank you.

Yours Faithfully
Okey 'Bakassi' Onyegbule
Nollywoodgists.com
Click the link below to go to...
PICTURES: THE UNTOLD STORY ABOUT THE MYSTERIOUS DEATH OF MOVIE STAR BISI KOMOLAFE
Revealed: How P-Square Blocked May-D From Performing At Calabar Carnival
Stephanie Okereke Linus: Spot the Difference!
Another Tragedy Hits Nollywood: Actor, Muyiwa Ademola In Fatal Auto Crash!
VIDEO: "Genevieve And I, No Smoke Without Fire"- D'banj Finally Confessed!
PASTOR ADEBOYE'S PREDICTIONS FOR 2013
Gov. Fashola Resues Ngozi Nwosu, Donates N4.5m For Kidney Operation
Ex-Miss Telecom, Banke Olutimehin Ties The Knot Soon
© 2013 Nollywoodgists.com
Click the link below to go to...
Fashion Police***** Dame Patience Jonathan Step Out In Style For First New Year Appearance** Too Drab: What the Heck Are They Wearing?
How Nollywood actress, Bisi Komolafe, died in Ibadan •Her last moments with sister, aunt, close friends
Funke Akindele Pens Multi-Million Naira Endorsement Deal
Pictures From Rita Dominic's New Year's Day Pool Party With Banky W
Former Edo AGN Boss, Osagie Elegbe, In Debt Mess With Upcoming Actress
KOKO CONCERT: D'banj Apologizes To Fans Over Failure
Tonto Dikeh Explains Her Reasons For Missing At Rhythm Unplugged
Charly Boy's Message For The Year, 2013