We Are United- PDP… Pledges Loyalty To Bamangar Tukur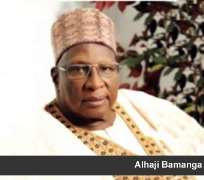 The ruling Peoples Democratic Party (PDP) on Thursday said there is no more crisis in the party boasting that it remains the only party with the capacity to resolve its internal wranglings within hours.
The party also commended its Board of Trustees for the prompt resolution of the misunderstanding in the National Working Committee (NWC) of the Party.
The NWC was caught in an epic battle for control of state party structure involving the National Chairman of the Party, Alhaji Bamangar Tukur and his State governor, Murtala Nyako of Adamawa State.
In an embarrassing move against Bamangar Tukur, some members of his controlled NWC, on Tuesday beat a retreat from an earlier resolution which dissolved the Adamawa state party executives loyal to Gov Nyako.
In the face of a heightened crisis involving PDP governors rising in solidarity with Nyako, the President summoned the NWC and resolved the crisis.
A statement by the National Publicity Secretary of the Party, Chief Olisa Metuh said the PDP remains the only political party in the country where differences in the leadership of its various organs could be resolved within a record time.
'In a political party as large as the PDP, divergent opinions on issues are normal but in the ability of its leaders to resolve and find a common ground on such issues, dwells the strength and dynamism of such an organization.
"In this instance, it is only in the PDP that misunderstandings are not just resolved but done in matter of hours. The National Working Committee of the PDP therefore wishes to commend the Board of Trustees of the Party for proving its role as the conscience of the Party."
The statement added that 'the National Working Committee wishes to further assure all members of the PDP of the unwavering unity of purpose in our ranks.
We are united under the able and dynamic leadership of our National Chairman, Dr.
Bamanga Tukur. We are ever determined to ensure that the Party fulfills its electoral promises to the people by securing an undiluted compliance of all our members in various positions of authority to a credible performance target."