Pictures: Genevieve Re-Launches Clothing Line? Poses With Friends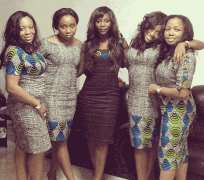 In 2008, sultry Nollywood actress, Genevieve Nnaji launched her clothing line called St Genevieve. At that time, many were expecting much from the Imo-State actress in making a big name with her new clothing line in the fashion industry just like she had done with Nollywood.
But five years after, her clothing line is not a crowd-puller in the fashion world. Nothing in particular seems to be attributed to its failure in the competitive fashion industry.
Now in 2013, Genevieve recently posed with some of her friends wearing St Genevieve clothing. This has raised some questions as to whether Genevieve is considering re-launching her clothing line?
Whichever the answer is, her fans would still keep their fingers crossed and wait for her decision. Meanwhile, here are some pictures of Genevieve rocking the 'Ankara' fabrics with her friends. Cute or not?