''Ekiti Dep. Gov. is back at Her Desk Supporting our Governor'' -Bimbo Daramola Fires Detractors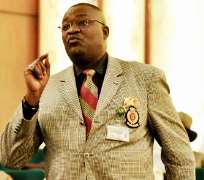 It is amazing just how malicious, vicious, bitter and ridiculous some people can be, all for political reasons. It is in this light that one must see the story titled ''Nigeria: Ekiti Deputy Governor, Funmi Olayinka Battles Cancer, Resigns'' by one Naomi Claret, who is purportedly a correspondent with National Enquirer Magazine.
It is relevant to put on record that this shocking and embarrassing reports about the respected deputy Governor of Ekiti State, Mrs Funmi Olayinka, in its entirety lacks merit and bridled with falsehoods, which is designed to mislead and misinform the great people of Ekiti State.
However, some eminent Ekiti indigenes have been reacting to this unfortunate development. One of those that have treated the reports with disdain is Hon. Bimbo Daramola, a federal lawmaker representing Ekiti North Federal Constituency 1. He affirmed that there is no iota of truth in the misleading publication which is spreading like wild fire in the internet community (twitter, facebook, blackberry etc), even as he called for caution, warning detractors and rumour mongers that there is no course of alarm in the state.
Hon Bimbo Daramola in a statement made available to the public through his blackberry device reads: "Its depressing to know that some people lack modicum of sobriety in moments that calls for it. The glee with which some "superhumans" celebrate morbidity confounds me. Life, living and state of health of anybody is in the hands of God. So for some beasts to hit the internet and go viral with morbid tales about my sister, the deputy governor of Ekiti state, our own elegant heroine in the collective struggle to liberate Ekiti from political vampires who held our dear state down for about 7yrs beats me. Its reprehensible, where is humanity? Rather they went on a celebration of beastiality at its peak. From calls, to tweets, bbms and sms all passing round the phantom tales of her resignation for whatever reason. Today, Sister is back at her desk supporting our Governor to serve our long suffering now liberated people in the spirit of FORWARD EKITI. To all those who gleefully celebrated this phantom story for whatever reason, motive or purpose, surely ill motivated, remember you are mortals too and what you wish others may be your lot. Welcome back Sis."