Japan Cabinet Plays Down Fed-Style Job Mandate For BOJ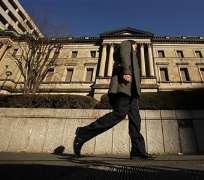 Key Japanese policymakers played down the prospect of making the Bank of Japan responsible for stable employment like the U.S. Federal Reserve, but said a 2 percent inflation target will be at the heart of a new policy accord with the central bank.
The country's economics and finance ministers dismissed a newspaper report earlier on Tuesday that stable job growth would be part of a new BOJ mandate as Prime Minister Shinzo Abe pushes for a more aggressive monetary policy.
Abe led his Liberal Democratic Party (LDP) to a sweeping election victory last month with pledges to end nearly 15 years of deflation with unlimited monetary easing and big fiscal spending.
The government is rushing this month to complete a new policy accord with the BOJ and an economic stimulus package that will be the first test of whether Abe can deliver on his ambitious economic agenda.
"The prime minister has been saying for some time now that he wants a price stability goal of around 2 percent inflation," Economics Minister Akira Amari told a news conference on Tuesday, when asked about the newspaper report.
"Price targeting will be the focus of any policy statement between the government and the BOJ."
The idea is likely among the several now being floated among central bankers, finance ministry bureaucrats, and politicians keen to show off their determination to drive Japan's economy out of the doldrums.
A final decision is expected to be made at the BOJ's next policy rate review on January 21-22, when the central bank will debate setting a higher inflation target than the current 1 percent.
Since taking power, Abe and senior LDP politicians have kept up their pressure on the BOJ, but they have backed away from some of their more radical demands partly because the central bank pledged to review its price target in January.
Finance Minister Taro Aso said on Tuesday that the government is keen to issue a joint policy statement with the BOJ but cast doubt on using employment as a metric to guide monetary policy.
"I don't know if the BOJ would swallow that," Aso said when asked about including employment stability in policy accord.
"Where else in the world has employment (as a policy objective)? As far as I know it's only the Fed. Therefore, doing it with the BOJ at this stage seems to be difficult both physically and time-wise."
NO DEADLINE FOR TARGET
Abe has called for adding job growth to the central bank's mandate. But doing so would be troublesome, because it will require a revision to the current BOJ law, which only mandates it to achieve price stability, and may take time because of opposition from a BOJ wary of political threats to its independence.
The BOJ will likely consider setting a new 2 percent inflation target this month in response to Abe's calls, although some in the bank are hesitant of setting such a goal without clear means to achieve it, particularly in a country that has been mired in deflation for more than a decade.
Many central bankers also want to retain their independence in deciding on a price goal and the means for achieving it.
Any policy accord is thus unlikely to set a deadline for meeting the target or mention specific measures for achieving it, to leave the BOJ with some flexibility in guiding monetary policy, sources familiar with the negotiations said.
"Japan cannot achieve 2 percent inflation with monetary policy alone. That's obvious," one of the sources said on condition of anonymity due to the sensitivity of the matter.
On the fiscal policy front, the cabinet will approve a 13.1 trillion yen ($149 billion) extra budget on January 15, which will include 10.3 trillion yen for economic stimulus and around 2.6 trillion yen to cover a shortfall in the pension system, sources told Reuters on Tuesday.
The stimulus will focus on encouraging research into new technologies, investment in renewable energy, and repairing some ageing roads and bridges.
The government will also map out a long-term strategy to boost Japan's growth potential around the middle of this year.
($1 = 87.7300 Japanese yen)
REUTERS