Squandernator Ex-Governor Sylva Left N4, 451.00 In Bayelsa Coffers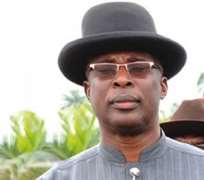 Former Bayelsa State Governor, Mr. Timipre Sylva allegedly squandered state resources during his reign and left the state with a paltry N4, 451.00, a little less than $40.00.
Bayelsa State Governor, Hon. Seriake Dickson gave a dramatic account of how his administration grew from the paltry N4,451 it inherited from his predecessor in February 2012, to over N16 billion.
The Governor also spoke of the challenge posed by the N50 billion Bond secured by his predecessor, which he said was set to hit N104 billion in 2017.
Presenting his administration's financial scorecard for December in Abuja, Dickson said the state's Internally Generated Revenue (IGR) would hit the N2 billion monthly mark by the end of this year, up from about N300 million when he assumed office.
Dickson, who was represented by his Commissioner for Finance, Hon. Duate Iyabi, explained that 2013 has been dedicated to consolidation of the gains of the preceeding year adding that ongoing projects would be completed.
According to the Finance Commissioner, N1.5 billion was drawn from the State's savings to  assist persons that were displaced during last year's flood, noting however that despite the devastating effects of the flood, the State achieved an impressive 85 percent implimentation of the capital expenditure content of 2012 budget.
He decried the N50 billion Bond obtained by former Governor Timipre Sylva, and another N16 billion bank loan, noting that the processes were abused..
Hon. Iyabi disclosed that, IGR consultants have been engaged by Government to shore up the monthly Internally Generated Revenue, (IGR) from the N518 realised in November 2012, to about N2 billion from the end of the end of the current fiscal year.
He described as unacceptable a situation where 97 percent of the state's revenue comes from the federal allocation, stressing that, the only way to gurantee a better and safer future for the State is to reverse the trend.
The Governor promised to continue to give priority attention to education, healthcare delivery, agriculture and tourism, emphasising that Bayelsa was set to become one of the most developed states in Nigeria.