IMAGINE ONDO's MIMIKO WITH LAGOS MONEY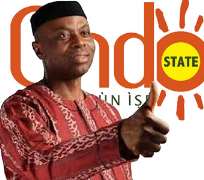 Some of you may remember one of Fagunwa's books about an Oba that had a human head implanted around his wrist. Every okele (morsel) he took when eating, the head gobbled it. What is surprising in Lagos State is that with Tinubu implanted on the wrist of Fashola, Lagos has money left to develop. It was so sad to be aware that Lagos may soon join Oil Curse producers that must have been cornered by you know who?
Those of us that know a thing or two about the people of Ondo, will tell you that the relationship between Fashola and Tinubu could never survive in Ondo State. In Ondo, Baba means something else and if you do not want Baba to strike you down, do not fool around with them. These people are so stubborn on principle, please do not dare them or bet your life once they have made up their minds.
My only problem with Mimiko is that he did not go to Ondo Boys High School. But then, most of the schools in Ondo Province in those days including St. Joseph gave due respect to the School respect was due. Getting that personal bias out of the way, Tinubu may want to ask Alex Akinyele about what he encountered when he tried to remove Rev. Cannon Iluyomade as the Principal of Ondo Boys High School.
Well, those are kids. But when Chief S. L Akintola came to visit Ondo, school children lined up the streets to greet him. He was surprised that that unlike their days, these school children did not wave to him cheerily as they had done. So he told the people of Ondo that he would not open their new water pipe system. Sorry young people, in those days we had something called water pipe system for the public, at least on each corner.
Akintola also let the people of Ondo know that he had heard about the candy called Akintola's balls, but they are not his balls. They are the balls of their grandfather! There was the sad story of one of my classmate whose father belonged to Akintola's party. He was ordered to get out of his house before setting it on fire. He refused. The politics of Ondo people are based on principle not on opportunistic diseases that infected Lagos.
Many of us have changed our minds about Chief S. L Akintola. He was only trying to convince his people not to put all their eggs in one basket. Labor Party has yet to be so infected. We have so many parties these days, they all stand for – you chop and I chop!
Sometimes we have to tell ugly stories as a warning to others to stop fooling around with Mimiko. This writer does not know Mimiko personally and need not to. He is also not a fan of Tinubu's avarice in Lagos State. When we were growing up in Lagos, there was a popular song that "Eko O Gba Bere Rara O!" Lagos has mellowed and Tinubu took his chances. But do not compare Lagos to Ondo, if you do not want the wrath of Baba.
No matter how you dislike someone for whatever reason, never wish them dead. Ask God to preserve their lives for redemption on earth. Pray for a long life for Tinubu, so that most of the money he has stolen can be recovered. The death of a looter is a blow to those he looted because they would lose most of the resources stolen mysteriously.
Mimiko has warned Tinubu many time that "Owo Ondo, Ondo lo ngbe". Wait a minute that was another Lagos slogan. During the last gubernatorial campaign, Dosumu complained that it cost about a billion to build one kilometer of road in Lagos, the highest in the whole wide world. Again, it is the head of Tinubu planted on Fashola's wrist that is gulping the money. Hard currency can't be exchanged for freedom in hell!
So imagine a Mimiko as the Governor of Lagos that could tell Tinubu where to go. It could have been an inspiration for other state governors in Nigeria. The problem with money is that we cannot take it with us. The best we can do with it is shape our legacy. Whatever Fashola does in Lagos today will be remembered but when they take into consideration: at what cost and how much was wasted, history may not be so kind.
Lateef Jakande will never be forgotten by the downtrodden and working class of Lagos State. Say what you want about him, no governor has so far measured up. Sam Mbakwe in Imo State tried with the little he had, but without Lagos money. Jakande made house helps graduates to the annoyance of child labor employers and turned working class into homeowners though condemned by those that could build theirs. Recently a couple of those houses fell and they blamed Jakande. But who did they blame when their billion mega buildings collapsed?
Fashola will not escape blame even when everyone knows that Tinubu has him in his pocket. Legacy will point to Mimiko as an example of a man with principle. But Nigerians have been beaten so badly, they ask why complain about Fashola in view of his progress in the State. Lagosians have never been so flatly taken advantage of – rivals thought Tinubu would be easier to defeat than Funsho Williams. Tinubu is stuck in our throat.
Those that made Tinubu by an act of omission, commission, neglect and selfishness cannot touch him today. Respectable Lagosians have to bow to Tinubu if they want anything substantial or forget it. Nigeria is the only Country in the world where you can loot until money start dropping out of your noise and one side of your mouth but nobody could prove it by our self-styled standard of due process.
Let us face it; it is easier to catch a looter in the Northern states of Nigeria than it is in the Southern states. It has nothing to do with EFCC but more to do with the fear of the people they rule. Accountability in the form of Boko Haram hijacked by religious extremists in the North, kidnappers that started in the Niger Delta hijacked by billionaire illiterate freedom fighters are symptoms of man indifference to man's suffering.
If we do not spend the money in Ondo, Lagos, Imo, Kano or Bornu where do we spend it? In foreign countries; where our looters and their couriers are disgraced at the airports for money laundering. When we spend it at home, most of it has to be in foreign or hard currencies so that it can be easily transferred out by foreign partners.
Written By Farouk Martins Aresa

Disclaimer:

"The views/contents expressed in this article are the sole responsibility of

thewillnigeria.com

and do not necessarily reflect those of The Nigerian Voice. The Nigerian Voice will not be responsible or liable for any inaccurate or incorrect statements contained in this article."
Articles by thewillnigeria.com