Mirroring the year 2013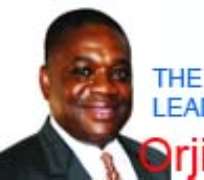 It has become the tradition of this column to take a dispassionate look at each outgoing year and the incoming one. The whole idea is to mirror both years through my spiritual prism to enable me to forecast what the incoming year holds in store for us and our dear nation. Interestingly, most of the predictions I have made since this column was born in 2007 had come to pass, making it one of the most reliable sources of predictions about Nigeria.
Let me quickly point out that my predictions are borne out of deep, prayerful reflections in self-hibernation. I have always done this before each year runs out. During this year's exercise, God revealed to me strange things about our nation. For those who know how these things work, prophesying is a delicate spiritual exercise that requires diligence, perseverance, discipline, self-emptying and prayer. Prayer remains the only force that moves the hand that rules the world. This is why it is a thing of joy to note that Nigerians have been globally acclaimed as the most prayerful people. Nevertheless, why our prayers do not produce the desired results is a matter for discussion at another day.
As I wrote in this column last week, Year 2012 was a year of mixed feeling for many Nigerians. It was a year characterised by numerous unpalatable incidents that earned it some notoriety. Last month ended in a most traumatic and tragic manner, with the crash of the helicopter carrying the then governor of Kaduna State, Patrick Yakowa, and former National Security Adviser Andrew Owoye Aziza and their aides, including the two pilots on their way back to Port Harcourt from Okoroba in Bayelsa State. While the nation was mourning their painful and sudden exit other sad incidents followed in their trail. Next was the Kogi State Governor Idris Wada who was involved in a fatal car accident last week in which his Aide-de-Camp was killed instantaneously.
Wada was severely wounded, received treatment at a private hospital in Abuja and now discharged. I read the account of the unfortunate incident and thought the governor was simply lucky. Otherwise we would have been talking about the death of two governors in less than one month. Gun-wielding sadists also struck at an ECWA church in Kano last week, killing five persons and injuring 40. As if that was not enough, there were multiple explosions in Lagos on December 26 in which over 10 houses were razed. The explosions were caused by firecrackers ignited by some unknown persons, in the spirit of Christmas. The havoc caused by the Lagos incident was quite massive.
It included the razing down of a whole warehouse filled to capacity with generators and 10 other houses in the neighbourhood. Imagine how the owners of the burnt generators and houses would cope with the monumental losses. In another incident – this time on New Year day – a patient in a hospital in Awka lost her life to firecrackers. She had a heart attack when she mistook the heavy firecrackers for an armed robbery attack. This calls to question why some regulatory agencies still allow dangerous firecrackers to be imported into the country. It has got to a stage that government should sponsor stiffer legislation to deal with this menace. Often, it is very difficult to differentiate between some of the fireworks and the real ammunition used by criminals. The shooting of innocent school children and their teachers at Newtown, Connecticut, United States, last month outraged the world.
This has forced the American authorities to rethink their gun laws. Should Nigeria wait for a more serious incident to occur before it takes steps to curtail the nuisance of fireworks across the country? So, now that 2012 belongs to the bowel of history, what does 2013 hold in store for our fatherland? Let us first take a look at the economy. The economy performed not too impressively last year with oil prices at the international market remaining fairly stable. The stability will continue till the end of the 2013, save for the occasional adjustments here and there.
The stock market will witness sudden bullish runs for the greater part of the year. Those that invested heavily in stocks last year, despite the instability in the market, stand to reap bountiful gains this year. The regulatory authorities will introduce new measures that will stimulate the operations of the stock market to such a degree that foreign investors will move in their billions to invest. From every conceivable angle, the Nigerian stock market remains the most rewarding in Africa, followed by the South African Stock Exchange. Government will come up with new fiscal policies that will lead to some chaos in the entire economy, particularly, heightening inflation, unemployment, and general hardship.
By implication, the Central Bank of Nigeria (CBN) will find itself in a quandary as how to deal with the spiraling effects of the shift in fiscal policies that will occur. Already government bonds are selling at marginal interest rates, with hope to peak in the second quarter of the year, when the implementation of 2013 budget will be at full swing. Overall, the impact of the global economy will resonate in Nigeria – which has managed to survive the 2009 global recession. Everybody is waiting for signals from the United States to know which direction the global economy will go. Europe will be hardest hit by the global recession. This manifested in the crises that hit Greece, Germany and some other Euro-nations. I fear for more tragedies, as military forces fight to suppress militancy across the country.
The activities of the fundamentalist Islamic sect, Boko Haram, are likely to intensify, since all efforts to flush them out in the past three years have not met with much success. However, the sect will be structurally and operationally weakened, as the international community gets more deeply involved in stemming their activities. I have offered to mediate a truce between the government and the sect in spite of the enormous risks involved because of the senseless waste of innocent lives of our valued citizens. No responsible government will fold its hands and watch its citizens mauled indiscriminately and inhumanly. Insecurity in the country is caused by nothing other than injustice. Justice, equity and fairness are the pillars on which any egalitarian society stands.
They foster mutual love, tolerance and understanding. Probably, what the Boko Haram is fighting for is recognition and repatriation for the killing of its leaders by security agencies. If that is the cause of their grouse, what then is wrong in discussing the method of appeasing them? We need to go to a roundtable and discuss the possibility of making peace. Even though I do not subscribe to the sect's resort to violence to achieve its aims, I still believe meeting them will lead to the resolution of whatever is at the centre of the strife. Let nobody deceive us: there can never be economic growth and development without peace and security. The transformational agenda of the present administration can only draw its life from a stable and peaceful environment. It cannot function in an atmosphere of rancour and lawlessness.
I strongly believe that the insurrection by the Boko Haram Sect will fizzle out once the long-awaited peace meeting is held. This will mark the dawn of a new era for our nation. Those fanning the embers of hate, using the sect, will be disappointed this year when total peace is achieved. Kidnapping and other criminalities will reduce drastically this year as government provides more jobs and improved amenities. There is no way God can continue to watch as innocent citizens he created in his own image and likeness are abducted for ransom. How can Nigeria make progress in this kind of environment? Kidnapping, from research, has been with mankind for ages. However, the dimension it has taken in Nigeria is baffling.
Politically, the nation will witness increased activities by political parties, preparatory to 2014 and 2015. I foresee some somersault in policy formulation by the Independent National Electoral Commission (INEC) that will bring it in collision with political party activists and civil organisations. Nevertheless, I expect its Chairman, Prof. Attahiru Jega, to nip the crisis in the bud by ensuring that he remains firm and unbiased in the discharge of his duties. Lack of funds will stifle the operations of the commission. The strategy is to make it remain an appendage of the executive. This should be resisted by well-meaning Nigerians, because the future of our democracy hinges on the independence of INEC. There is going to be a merger of some political parties. One of the mergers will turn into a national movement such that some powerful persons will feel threatened. This will heighten the tempo in the polity as politicians jostle for 2015. I pray against the death of a political colossus that will change the permutations for 2015.
God, in His infinite mercy, should avert this impending cataclysm! I am certain my readers will marvel at this: there is not going to be any serious air disaster this year. Yes, there will be none. God is going to cleanse our airspace and keep them from infernal spirits. Government should, therefore, use this opportunity to sanitize the aviation industry to ensure that things are done in accordance with global standards. A well-organised national carrier will emerge this year to breathe a new life into air travels. One of the existing notable private airlines will run into crisis that may force it out of existence, if care is not taken. Last years, 2012, saw mass failures in almost all the public examinations held. The trend will be reversed this year. Overall, many candidates for these examinations will emerge with good grades this year. But to achieve this feat, I urge the students to work harder and shun laxity.
The Federal Ministry of Health should be proactive in its activities this year to forestall the outbreak of epidemic of frightening proportion. Nigerians should pay more attention to their personal hygiene and make their environment safer. There will be more flooding this year, including some areas not affected last year, but early and adequate preparations will reduce its deadly impact. National Emergency Management Agency (NEMA) and other relevant agencies should begin now to plan for these impending natural disasters to avoid the mistakes of last year. People in areas prune to such disasters should also take steps to stay safe. On the prediction by some prophets and seers that there would be a harvest of deaths this year, I wish to state categorically that matters of life and death are beyond the human realm.
They are the absolute preserve of God. What I know for sure is as long as we live upon earth, some day we will die and return to our Creator. All we have to do is lead a decent and accountable life. God will take care of the rest. Power generation will remain a nagging problem this year, despite government's unrelenting effort to improve the situation. I advise the President not to slack. He should do everything possible to ensure that the policy framework for the actualisation of the various power timelines is promptly and judiciously realised. In any case, the privatization of some of the power generation companies will continue to generate bad blood this year until the thorny issues surrounding the deals are resolved. Our national team, under Coach Stephen Keshi, will have an impressive outing at the African Cup of Nations (AFCON) in South Africa. Nevertheless, their efforts will not be enough to win the trophy.
My pessimism does not stem from lack of patriotism. Rather, it is based on what my mind tells me and what is on ground. Nigeria can only return to its former position in soccer in the world if we can come up with a functional sports policy framework. This policy should be designed in such a way that all national teams should have long-term plans for their development. Sports administration in Nigeria is currently based on ad hoc plans that lack depth and diligent planning.
On the whole, 2013 is going to be a much better year than 2102. In fact, it is going to be a year of fulfillment and recuperation for a majority of our people. I pray God to let his light shine upon us and be merciful to us. I wish every Nigerian happy New Year!