The Kidnapping of Ngozi Okonjo-Iweala's Mother - By Ugochukwu Ejinkeonye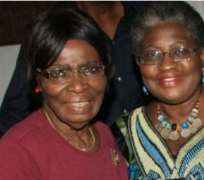 By Ugochukwu Ejinkeonye
No matter the very strong views many Nigerians hold about the Minister of Finance and Coordinating Minister of the Economy, Dr. (Mrs.) Ngozi Okonjo-Iweala, it is difficult not to sympathize with her and her family on the recent kidnapping of her mother, Mrs. Kamene Okonjo, by heartless criminals. Mrs. Okonjo, 82, a retired sociology professor, is the wife of the Obi of Ogwashi-Uku in Aniocha LGA of Delta State .
The five days Mrs. Okonjo spent with her captors must have been one long traumatic period for the members of the family. Now that she has been freed and is back home, I must join several other Nigerians to congratulate the finance minister and her family on the happy end to this horrible nightmare.
It has been quite difficult to determine how exactly Mrs. Okonjo's freedom was secured. The public has merely been treated to a cocktail of speculations even by those who ought to have the facts. Delta State Governor Emmanuel Uduaghan thinks that the kidnappers may have been panicked by the sudden, heavy presence of security agents in the area and so decided to release the woman.
"The army and police have been on their trail and a lot of raids have been done. I think because of the heat they dropped her off on the highway," Uduaghan told the BBC.
Both the governor and the police avoided direct answers to questions on whether any ransom was paid to secure the release of Mrs. Okonjo, insisting that only the family could authoritatively answer that. Mr. Uduaghan maintained that his government does not have a policy of paying ransom to kidnappers, but quickly added, however, that affected families eager to have their loved ones released have been known to engage in private negotiations with the abductors.
This clearly loaded answer can only further fuel speculations across the country that some ransom may have been paid before the kidnappers agreed to drop off Mrs. Okonjo on the highway in Kwale, 50 kilometres away, from where she boarded the motorcycle that took her home. It also hints strongly at the likelihood that either the police and the Delta State government were being less-than truthful or they were actually not on top of the situation.
Again, Mr. Uduaghan told the BBC: "For this one we also insisted that we would not pay any ransom [and] as a government we would not negotiate with anybody."
Now, if such a decision was made for this particular case, as the governor's statement seems to suggest, does it then mean that in previous cases, the government had paid ransom? What does this say about the ability of government to protect precious lives and discourage crime by making it unprofitable?
Mrs. Okonjo's son, Onyema Okonjo, has blamed her mother's abduction on security lapse. "I think there were definitely some lapses in terms of security… the people that were supposed to have been here were not here…this gave them [the kidnappers] the opportunity to do what they wanted to do… I think it is really a sad reflection of where we are as a society," he was quoted as saying.
Indeed, it is a very "sad reflection" of the society in which we have found ourselves.
That Mrs. Okonjo could still be easily abducted despite the overwhelming security around her (as a powerful minister's mother and community queen) can only, most sadly, underline the crying vulnerability of most Nigerians out there. It also throws up the cold fact which government often loves to ignore, namely, that the solution to the menace of kidnapping and armed robbery is not to surround privileged people and their families with heavy security.
Rather, sincere efforts ought to be conscientiously deployed to ensure adequate security for all and, most importantly, a gradual reversal of those factors that generously water the ground for the rapid growth and spread of these criminal activities.
Now, the Finance Minister has introduced another very worrisome angle to the story. She told reporters in Abuja last week that her mother was kidnapped because of her alleged refusal to pay fuel subsidy funds to oil marketers.
"I can't give all the details because we don't want to compromise on-going investigations. But I can tell you one thing: My mother suffered a great deal during this ordeal…They told her that I must get on the radio and television and announce my resignation ...When she asked why, they told her it was because I did not pay Oil Subsidy money. They also said I had blocked payment of money to certain components of the SURE-P programme…These statements are, of course, not true. In the case of subsidy payments, we have been paying all marketers whose claims have been verified by the Aig-Imoukhuede Committee after going through the necessary processes…For marketers whose transactions are proven to be fraudulent, the position of the Jonathan government is also clear: we cannot and we will not pay. We will not back down on this. We will continue to stand firm," Okonjo-Iweala declared.
The minister's statement has raised many questions across the country. From what I have heard and read so far, only an insignificant number of Nigerians are buying this story. And what they are asking is: if we agree with the minister that those who organized her mother's abduction are those oil marketers whose claims were "proven to be fraudulent" and whose fraudulent claims the minister has vowed not to pay, why then did they release her mother?
Did the minister eventually back down? Because, from every available report, Mrs. Okonjo was released by the kidnappers and not rescued by the security agents, although, the authorities deliberately refused to make this very clear, by choosing to announce her release together with the arrest of "some prime suspects," thus, making it seem as if the former occurred as a result of the latter. Let's all hope that the on-going investigations will unravel all the truths behind this very sad and unfortunate incident.
Well, whether her mother was rescued by security agents or through the payment of ransom (or even subsidy fund), what remains true is that Mrs. Okonjo-Iweala has the status, connection and means to adequately respond to both challenges. In fact, an online platform alleged the other day that N9million ransom was paid by the Delta State government to secure Mrs. Okonjo's freedom.
Whatever happened, however, all I can say here is that as the minister and her siblings celebrate their enormous good fortune, sincere thoughts must be spared for that poor, old woman out there who has been pinning away in the kidnappers den because her own children have neither the means nor clout to secure her freedom as promptly and effectively as the Okonjo's did theirs.
We live in a country of acute unemployment and excruciating poverty and the Goodluck Jonathan's government is yet to demonstrate that it is in possession of workable ideas about how the malaise could be effectively combated.
In fact, we ought to have been counting ourselves extremely blessed that we have as our chief economic manager, a brilliant, Harvard and World Bank-minted expert in the person of Ngozi Okonjo-Iweala, yet the economic policies being formulated and implemented in this country, despite being always wrapped in glittering foils, have only compounded the nation's woes, effectively ensuring that we are perennially mired in such a primitive and dangerous society where poverty and despair reign with utmost impunity and life is more and more worthless.
What we appear stuck with is a government perpetually groping for direction, always appearing blank and frustratingly confused about how to navigate the country into even some modest economic sunshine.
Mrs. Okonjo-Iweala, largely seen as the bold face of the World Bank/IMF policies for Africa , has most zealously championed controversial policies that have rankled the populace. Prominent among them is her insistence on mass retrenchment of workers as a solution to Nigeria 's economic problems, in a country with an incredibly high unemployment rate. It was from her that many Nigerians first heard such spine-chilling phrases like "right-sizing" and "down-sizing" in the civil service – phrases that always unleash fear, dread and panic everywhere.
She is also a passionate advocate of the removal of subsidy on fuel (READ: increase in the price of petrol) – something many regard as phantom since government has repeatedly failed to convincingly prove its existence. And despite this determination to pile more hardship on an already overstretched populace through punitive policies that only compound the country's already very bad economic problems, public officers obscenely cart away duly approved jumbo salaries and ridiculously inflated allowances right under finance minister's nose. I am yet to hear Mrs. Okonjo-Iweala suggest the "right-sizing" or "down-sizing" of the multitudes of aides (many of them with overlapping functions) idling away at our expense at the presidency or even the slightest reduction of their unspeakably inflated salaries and allowances.
And to make matters worse, and clearly underline the gross insensitivity, prodigality and antigrowth mindset that inspire polices and plans at the presidency, President Goodluck Jonathan is spending billions of naira on food at Aso Rock and the construction of a new, more tasteful presidential banquet hall and "more befitting" residence for the vice president even when the current residence is still very cosy and palatial. Yet this is a country where many people are not able to afford one healthy meal a day, and some have even gone as far as feeding from putrid dustbins just to prolong their miserable existence.
Mrs. Okonjo-Iweala should allow her recent experience to acquaint her with the awareness that punitive policies apart from traumatizing their traditional targets, that is, the people, also produce horrible consequences that have ways of returning to haunt even their very chief architects. Granted, criminally-minded people would always take to crime no matter the situation, yet it remains very difficult to divorce the unspeakable hardship in the country from the growing menace of robbery and kidnapping.
Also, the unrestrained looting of the public wealth which usually transforms public officers into overnight millionaires, and the penchant by these financially empowered fellows to obscenely flaunt their new-found wealth before Nigeria in the midst of excruciating poverty in a land where over 80% of the citizenry live below poverty level can only provoke the deprived outside the corridors into crime. Little wonder kidnapped public officers and their relatives hardly attract any sympathy and prayers from the populace.
It is time for President Jonathan and his team to demonstrate convincingly that indeed some efforts are really being made to fix this country. Power supply, for instance, despite the billions of dollars it has gulped, remains abysmally poor, thereby shooting up the cost of doing business in Nigeria . This continues to force the closure of businesses, kill the dreams of young entrepreneurs and swell the rank of the unemployed, many of who resort to violent crimes as a means of survival, thereby, compounding the country's insecurity problems.
It is to be hoped that Nigerian public officers would hasten to learn from their colleagues recent experience that it is impossible to labour to create a dangerous country and expect to be insulated from its often far-reaching consequences.
This is wishing Mrs. Okonjo a most pleasant recovery from the trauma she had just passed through.
-----------------------------------------
Ugochukwu Ejinkeonye,
www.ugowrite.blogspot.com
[email protected]
December 2012
Disclaimer:

"The views/contents expressed in this article are the sole responsibility of

Ugoochukwu Ejinkeonye

and do not necessarily reflect those of The Nigerian Voice. The Nigerian Voice will not be responsible or liable for any inaccurate or incorrect statements contained in this article."
Articles by Ugoochukwu Ejinkeonye