Analysis: James Ibori, Dele Olojode and Bank Debtors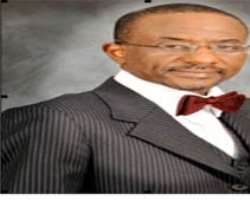 In the aftermath since the Central Bank of Nigeria (CBN) wielded the sledgehammer against the chief executives and boards of five banks, there has been a rash of recriminations as to who owes what; to who, and further developments. The CBN has published the list of debtors whose non-performing loans reportedly occasioned distress in the five banks.
The CBN purge has exposed the venal business practices of many in the corporate elite and how their political connections have protected them. Corrupt politicians looted state treasuries, then set up front companies and contracted billions of naira in loans from banks to buy local assets; but despite their wealth, these politicians and their front companies have neglected to service the loans. Bankers and their political affiliates lived in a rarefied world of luxury property holdings, helicopter rides into the city and weekend jaunts to South Africa on company jets.
The list of debtors includes more than 200 individuals as well as high profile companies such as ex-President Olusegun Obasanjo's pet business project, Transcorp Ltd, which he had hoped would develop into a South Korean-style mega-corporation. Some of the debtors have angrily denied they owed the debts claimed by the CBN.
In tandem, the Economic and Financial Crimes Commission (EFCC) deployed over 100 operatives to arrest former bank executives in Lagos, while also issuing dire warnings to the debtors to pay their debts immediately or face the consequences. Since the CBN released the list of alleged debtors, many have taken out costly advertisements in the media to dispute the claims of indebtedness. Even those whose names were not supposed to be on the list were scandalized as debtors by the apex bank.The Chairwoman of the EFCC, Farida Waziri says the debtors must settle their debts or face prosecution.
One of the prickliest cases for Waziri, who has appeared close to the former Police Chief Mike Okiro and Attorney General Aondoakaa, is the appearance of former Governor of Delta State James Ibori on the debtors' list. Ibori and an associate, Mike Orugbo, according to the list, borrowed almost $200 million from Oceanic bank to finance their takeover of the National Fertilizer Company of Nigeria; its factory was built in the mid-1980s by the US's Kellogg, now defending itself against allegations of multi-billion dollar corruption in the building of Nigeria's first gas export plant.
Although Ibori and Orugbo's company, Notore, bought a private jet, the CBN says they have neglected to service the loan. Similarly, Ibori borrowed another $200 million to finance his purchase - through Ascot Offshore - of the oil services company Willbross Nigeria from its US parent company, Willbross Inc. Willbross Inc. had to close its Nigeria operations after a federal court had found it, together with Germany's Bilfinger Berger and Anglo-Dutch Shell, guilty of fraud and corruption. So disturbed was Ibori by the CBN move, he rushed back from a holiday in South Africa to consult his lawyers.
Frustrated and disillusioned over his inability to get President Musa Yar'adua stop the public embarrassment from the CBN naming and shaming campaign, Ibori has declared war on the newspapers which published the CBN debtors' list. One of his targets has been Dele Olojede, publisher of NEXT newspaper, and personal friend of CBN Governor, Lamido Sanusi.
Huhuonline.com investigations reveal that Ibori has gone to town with stories how the CBN Governor has a personal vendetta against people he perceives to be his enemies. Ibori is miffed at the fact that the name of Dele Olojede, said to owe some $10 million to First Bank Plc was conspicuously absent from the CBN recalcitrant debtors list.
Olojede, according to sources, secured the loan last year when Sanusi was First Bank Executive Director in charge of risk management. Huhuonline.com has learnt that Olojede had sought the assistance of Henry Imasekha in his quest for a bank loan but all their efforts were futile. He then approached Hakeem Belo-Osagie, former United Bank of Africa (UBA) chairman who introduced him to Sanusi, then at First Bank; and through Sanusi, Olojede reportedly secured the loan, but after some horse-trading that saw Belo-Osagie and his friends – Nasir El-Rufai (Former Federal Capital Territory Minister) and Nuhu Ribadu (former EFCC chairman) – taking substantial stakes in the company.
Reacting to these allegations, Dele Olojede denied any wrong-doing, saying at a personal level, he does not owe any bank. In a written response to questions by Huhuonline.com, he explained that Timbuktu Media, (publisher of NEXT newspaper); in which he is a significant shareholder, took an equipment lease financing for N1.3 billion last year from First Bank, to set up a printing shop in Lagos.
"It took us three years to persuade First Bank to grant the facility, and they are charging us an arm and a leg for it; the facility is used exactly for its intended purpose; the account is in good standing and it is outright false to describe it as non-performing," Olojede noted. He dismissed as "bald lies" reports published by the Independent newspaper alleging he was a recalcitrant debtor, saying the authors of the reports were Ibori fifth columnists out to smear and blackmail him after his newspaper published a report: "Ibori's Brain and the Great Bank Swindle."
As those caught in Sanusi's net try to fight back using their political protectors, the stage is set for the most important battle of Yar'adua's presidency: if he backs Sanusi, then some of the key financiers of the ruling People's Democratic Party (PDP) could fall from grace. If Yar'adua jibs at the prospect of the messy political battles ahead, he risks the collective resignation of technocrats such as Sanusi, Finance Minister, Mansur Muhtar and the new head of the Securities and Exchange Commission, Arunma Oteh.
Sanusi's style is different: he told the management of First Bank, where he was formerly Chief Executive, to switch all his loans to the commercial rate from the concessional interest rates given to banking staff: he did not want anyone to accuse him of conflicts of interest. It seems Sanusi is prepared for a harsh fight back from the many enemies he has made in the past two weeks. Yar'adua's backing of Sanusi has surprised critics who have watched the antics of Attorney General Michael Aondoakaa, who without presidential censure mounted a determined defense of some of the most corrupt politicians.
Yar'adua and his advisors had recruited these professionals to push through unpalatable reforms, and they have all made clear their independence from party political pressures. One explanation for Yar'adua's position is that the damage to the financial system has been so grave that Sanusi has convinced him that the government's survival - let alone Nigeria's international reputation - depends on radical surgery on the banking sector. But it is stage two of Sanusi's revolution that is causing Yar'adua's concern: the publication of the biggest delinquent debtors in the country.

Although many of the repercussions have yet to play out, some of the obvious questions are already being asked: if Sanusi could see these failures of risk management and billions of dollars in non-performing loans, why did so few analysts and financial institutions sound the alarm bells? And why did those business publications continue to hand out 'Best Bank of the Year' awards to banks in such chronic difficulties? Perhaps like the myopic bandwagon accompanying US and British banks, the money just seemed too good and too easy at the time.
|
Article source