Desmond Elliot Drags Wife To Nollywood From Banking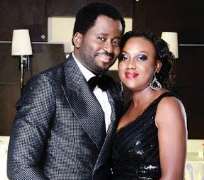 Nollywood actor, Desmond Elliot has introduced his wife, Vicky, to Nollywood. The wife of the actor and director has now left her banking job for Nollywood and has become a distributor of Nollywood movies released on DVDs.
Her store is said to be located on the Island where she sells and serves as a film distributor to other movie stores.
It is believed that Vicky will now be saddled with the responsibility of distributing Desmond's films and possibly movies released under Royal Arts Academy where is Desmond is a major stakeholder.