Why I Abandoned Medicine For The Lucre Of Political Offices — Prof Jubil Aminu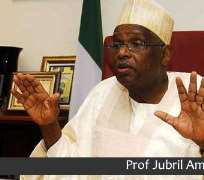 A former minister of Education, Prof Jubril Aminu,  has defended  why he abandoned a key profession like cardiology for political appointments.
He is in the same league as Professor Jerry Gana, a bright geography professor who abandoned the classroom decades ago for sundry political appointments with any government in power.
Aminu, a professor of   cardiology, and a former Petroleum minister said that he did not abandon his medicine profession to join politics but simply drifted upwards.
Aminu, also a one time Senator, abandoned active medicine 34 years ago, when he was invited from the United States of America to be the Vice Chancellor of the University of Maiduguri in 1980, a lucrative political appointment.
Five years later, a former foreign affairs minister,  was appointed  to a more juicy position of Education minister under  self styled military president, General Ibrahim Babangida.
Aminu who was guest  today on Bayo Adewusi's talk program, 'One one One', insisted he did not leave medicine for politics, political appointments, and lucre of political offices but that  he merely 'drifted'
Aminu was born in August 1939. Studying medicine, he obtained an M.B.B.S from the University of Ibadan in 1965, and a PhD in Medicine from the Royal Post-Graduate Medical School, London in 1972. He was appointed a Fellow of the Nigerian Academy of Science in 1972, a Fellow of the Royal College of Physicians, London in 1980 and a Fellow of the West African College of Physicians also in 1980. He was made a Distinguished Fellow of the Nigerian Postgraduate Medical College in 2004.
Aminu was a Consultant in Medicine, Senior Lecturer and Sub-Dean, Clinical Studies at the University of Ibadan Medical School (1973-1975), and Executive Secretary of the National Universities Commission (1975-1979). He was Visiting Professor of Medicine at Howard University College of Medicine in Washington DC (1979-1980) and Vice-Chancellor of the University of Maiduguri 1980-1985. He was also Professor of Medicine at the University of Maiduguri (1979-1995).
Aminu held office as Federal Minister of Education and then Federal Minister of Petroleum and Mineral Resources (1989-1992). While Petroleum Minister he was President of the African Petroleum Producers Association (1991) and President of the OPEC, Conference (1991-1992). He was elected a delegate to the National Constitutional Conference (1994-1995). From 1999 to 2003, Aminu was Nigerian Ambassador to the United States of America.
Aminu was elected to the Senate for Adamawa Central in 2003 and reelected in 2007. As a Senator Aminu was appointed to committees on Foreign Affairs, Education, Air Force and Health.
He however  hastened  to announce that there are different types of drifting.
Asked why he abandoned  his training as an accomplished cardiologist who attained a world class status in the profession, but chose to join politics, he maintained that: 'I did not abandon all of that to join politics.  But in politics you run with legs. I was in the medical outfit in University Teaching Hospital Ibadan till they found me on top of a platform talking'.
Pushed harder to admit that he drifted, he replied this way. 'You drift from been a doctor to be a university teacher. From university teacher you work in the university. And therefore you found yourself in a position to do a lot of things which may not particularly be in your discipline'.
'I was sufficiently committed but, whenever you move from one place to another you think that is it and then the government think that is not it. Let me give an example, I said I was tired of UTH Ibadan and I wrote resignation and sought for sabbatical and they allowed me to go. I was called there by the federal government. I was in America when I received a call that I was appointed the Vice Chancellor of the University Maiduguri. I was doing that when I was appointed a minister of education five years later. That is also a university job. So you can see that it is not as if somebody said I'm leaving medicine for politics (maybe some people do it) but you continue drifting gradually and until by the time you realize it you are upwards'.