PPA POINTS THE WAY TO GOVERNMENT HOUSE AWKA AS NNEWI STOOD STILL WHEN EMEKA ETIABA JOINED PPA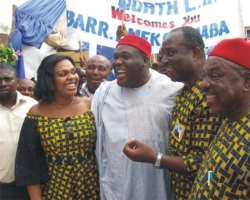 *Party To Televise State Primaries Live*
*PPA National Chairman Graces The Super Event*
*APGA Suffers Setback In Anambra As 20,000 Members Join PPA*
It was a carnival of sorts on Saturday 12th September as All Progressive Peoples Alliance (PPA) came alive in real and practical sense in Anambra State when gubernatorial aspirant in the forthcoming 2010 election, Mr. Emeka Etiaba and about 20,000 supporters declared for the party.
The guber aspirant who is the son of the Deputy Governor of the state, Dame Virgy Etiaba had a week ago resigned his membership of the All Progressives Grand Alliance (APGA) because of what he called hostile environment and lack of internal democracy in the party.
Declaring for PPA before a mammoth crowd and the national and state leadership of the party at St Andrew's Church Field, Nnewi, Etiaba who is widely believed to pick the PPA ticket stated that the choice of the party as the vehicle to take the state to the next level was not by mistake.
He said, "The desire to take Anambra State to the Next Level made it imperative that we, formerly of All Progressives Grand Alliance (APGA) will quit that hostile environment for our new abode to the PPA, where at the minimum, the basic tenets of democracy hinged on Right of Choice is given a pride of place. We find that internal democracy is alive and well here.
When it became obvious that we must leave APGA, the question then became, for which party and never did we argue whether we should leave. When a few people knew that we were set to join PPA, all manner of questions started coming up but we had one question for such people. If not P.P.A., which party will it be? None was able to answer our own question. The rest is history.
Speaking further at the occasion, which looked like the final breath for APGA in the state going by the turnout and the representation of all local governments, Etiaba noted that though quitting APGA was not pleasant, his organisation had no choice but to keep alive the Next Level vision by quitting the collapsing APGA house.
"It is not a pleasant experience to quit a house you helped to build and furnish. However if there is a threat of dying in an inferno consuming the house, you must either quit or be destroyed by the inferno. Our Next Level vision for the State is too precious to be destroyed by self inflicted fire.
"When I declared to run for the governorship seat in Anambra State in January 2009, I met Dim Chukwuemeka Odumegwu Ojukwu, the leader of APGA and my hero. I told him about my vision for our State and since then, he has been unwavering in his support. At our Next Level Arena, he promised amongst other things, free and fair primaries unknown to him that the party executives had no respect for his leadership. While he called for primaries, the executive insisted in Chief Umeh's language (This Day interview of Monday, 7th day of September, 2009) going to where their bread is buttered. Preferring one aspirant because of bread and butter over another and foreclosing the issue of primaries. My little knowledge of the Bible advises me to honour my father and mother, so that my days will be long in the land. It is left for us to see how long APGA will live in the light of this dishonour of the APGA leader's advice.
"While I commend the vision of the founding fathers of APGA, I however state that that vision is currently being pursued and implemented by the PPA. My advice to the well meaning members of APGA still trapped in the party is that there is enough room in P.P.A. to receive you.
"Our vision of Next Level is a new one. It is nothing close to what has been witnessed in the state. It is a vision of abundance, sincerity, prudence, hardwork and collective ownership of the state. This vision will impart on security, primary & secondary education and healthcare, agriculture. Awka as a state capital, construction and maintenance of roads, public buildings and our utilities, Transportation, environment but most especially, it will de-emphasise those factors that divide us like religion, partisan politics, culture and gender differences amongst others.
"In our last days in APGA, we had a rare privilege of being invited by some political parties to explore the possibility of flying their flag for the election. To these parties, we say thank you for believing in our candidature. We however appeal that now we have made our choice of Party, you would join hands with us to prosecute the campaign and win the election and together, we shall take Anambra State to the Next Level"
While thanking members of PPA for their warm reception and belief in his group's abilities, Etiaba insisted that "we are not in the party to bulldoze our way in but to work together with you towards the journey to the Next Level".
Speaking at the occasion, the Acting National Chairman of the party Alhaji Habib Mustapha expressed his happiness that such quality aspirant like Etiaba was coming into PPA with his numerous supporters.
Mustapha who came to the function with another national officer, Alhaji Mohammed Shehu said, "It was only 6pm yesterday that Etiaba told me of his declaration, but because I know how serious he is as a person, I said I must come for this function.
I promise that the entire NWC of the party will honour any invitation from you next time you have any function.
He assured that every aspirant would be given a level playing ground so that the best candidate will emerge.
"The Anambra PPA primaries will be televised live nationwide for people to see that PPA is a disciplined party and believes in internal democracy".
The state chairman of the party Chief Hon Frank Igboka who admitted Etiaba and his supporters numbering according to him about 20,000 described Etiaba as a big masquerade, noting that his entrance into the party was a great joy to him.
Igboka said PPA opened its door for Etiaba because he (Etiaba) has an address in Nigeria and was not like some whose addresses are overseas.
Noting that Etiaba has the greatest advantage because of his structure, the state chairman stressed that PPA has all it takes to put a Governor in the state in March 2010.
"You are not coming into this party as a beginner, but to be a defender of PPA manifesto. We will give you a level playing ground, if you win, you know you win."

Publisher - 516 451 0632; 0808 336 8888
|
Article source