Comic Actor, Victor Osiagwu Marries Wife In Truck [Picture]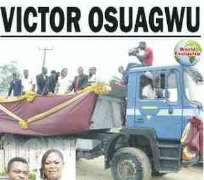 Guests that attended the wedding ceremony of Nollywood comic actor, Victor Osiagwu truly got the comic side of the actor as they watched him marry his bride, Roselyn of many years in a truck decorated for the purpose.
Those in the Choba, Port Harcourt, Rivers State community couldn't but help laughing at the 'live comedy drama' the actor put up for them free of charge. Victor finally married Roselyn after 13 years of living together with four children last week Saturday, December 8, 2012.