Panel To Resettle Bakassi Displaced Set Up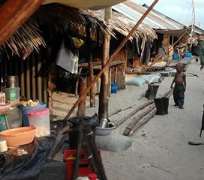 SAN FRANCISCO, December 13, (THEWILL) - The Federal Government, Thursday, took a visible step towards resettling the displaced people of Bakassi when the Vice President Muhammad Namadi Sambo established a committee that has been charged to recommend measures necessary to ensure that these displaced people are resettled.
The committee, which has been charged with the responsibility of looking into all the critical needs for the resettlement process, is headed by the acting Governor of Cross River State, Effiok Essien Cobham and has three months to submit its report.
Speaking to the media soon after the meeting, Cobham said Vice President Sambo charged them to take a holistic view of the problems because "basically we discussed the issue of the resettlement of the displaced people of Bakassi and of course the Vice President in his wisdom established a committee to look into the issues which are quite many, with me as chairman while membership stretches between the Federal and State officials including the Ministry of Foreign Affairs, so that we can comprehensively look at the issues affecting the people of Bakassi and then submit a report to the Vice President on or before the end of February 2013.
"For now a large number of the Bakassi people are talking about a new settlement outside the camp where they are presently temporarily sheltered. They want a location that is opened to the sea since they are basically riverine people with their main preoccupation being fishing and that involves the development of an entirely new settlement," the acting governor added.
Senator Florence Ita-Giwa, who represents the affected communities in the senate who was also at the meeting expressed her happiness about the events of the day saying: "Today is one of the happiest days for me as a leader of the Bakassi people because it shows that Nigeria is working, it shows that the Presidency is working. I did a very voluminous petition to the Presidency and this meeting is the outcome of my appeal for the Presidency to come to the aid of the suffering masses of Bakassi and I am very, very happy that a committee has been put in place and if these matters are addressed, it will bring succor to the people of Bakassi."
Others at the meeting included the Inspector General of Police, Mohammed Abubakar, National Security Adviser, Sambo Dasuki and the Director General of National Boundary Commission, among others.