National Assembly Okays Death Penalty For Terrorists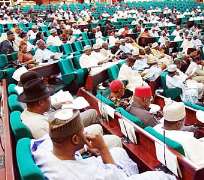 ABUJA, December 13, (THEWILL) - The National Assembly has endorsed death penalty for terrorism act in Nigeria.
The lawmakers, with the development, have intensified the fight against terrorists.
The endorsement was contained in the conference committee report of both chambers of the National Assembly which harmonised a Bill for an Act to amend the Terrorism (Prevention) Act, 2011 and for other related matters.
In the report read on the floor of the Senate, Chairman of the conference committee, Sen. Mohammed Magoro, said clause 2 amends section 1 of the principal Act which deals with "prohibition of acts of terrorism" in general.
The Senate version prescribed life imprisonment for offences under this clause while the House of Representatives version prescribed death penalty. After deliberations, the House version was adopted by the conference committee.
Equally, in clause 2, new section 1A was inserted immediately after section 1 of the principal Act.
This new provision deals with National Coordinating Bodies in counter terrorism offences and designates specific institutions and vest specific powers and functions in- the office of the National Security Adviser, the Attorney General of the Federation and relevant law enforcement and security agencies.
The Conference Committee considered in detail the new provision vis--a-vis other extant laws in force with regard to national security and prevention of terrorism and adopted the House version.
The committee further substituted the words "National Security Adviser", "Inspector General of Police", and the "President" replacing them with the phrase "Attorney General shall apply for the forfeiture of any funds or property seized under this Act".
The report was however not adopted yesterday by the Senate because the signatures of some members of the conference committee including the Chairman of House of Representatives, was not in the report.
The Senate President, David Mark, however instructed the Committee chairman to get the report signed by all members of the committee for the sake of proper documentation.