Sucker Punch: Ten Provocative Demands from Dr. Okonjo-Iweala to President Jonathan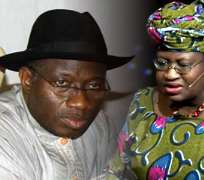 A rare good news for Nigerians: two prominent Nigerians made the list of the '100 Top Global Thinkers of 2012' according to Foreign Policy magazine. They are Prof. Chinua Achebe, for 'forcing Africa to confront its demons' and Dr. Ngozi Okonjo-Iweala, for 'showing Africa how to break the resource curse.' While the inclusion of Chinua Achebe is welcome without hesitation, the inclusion of Dr. Okonjo-Iweala vis-a-vis the record monumental corruption in the Nigerian oil and gas sector may raise some eyebrows.
While I agree with Dr. Okonjo-Iweala on the concept of oil subsidy removal, I disagree with her on the roadmap. While Dr. Okonjo-Iweala believes that our resource curse will be reversed by simply removing subsidy, I believe that corruption and corrupt practices in Nigerian oil industry remains the main problem and as such, should be the starting point.
Of what use is oil subsidy removal for a government that cannot account to its crude oil production(with a fifth of our crude oil stolen), running an inefficient and oversized NNPC with dilapidated refineries? Of what use is oil subsidy removal in a country that spends over 70% of its budget on recurrent-expenditure, servicing bogus and extravagant lifestyle of the executive and legislative arms of government? Has Dr. Okonjo-Iweala learnt anything from the present subsidy scam with President Jonathan's unwillingness to prosecute the likes of Otedola and co that financed his campaign?
I sincerely hope by now that Dr. Okonjo-Iweala has realized that she is being used by the GEJ administration as a camouflage while confusion and corruption reigns. To truly succeed in helping Nigeria overcome the oil curse and corruption, Dr. Okonjo-Iweala must force President Goodluck Jonathan to confront the demons in his (himself) administration. To help her, I came up with ten provocative demands she should confront Jonathan with.
Dr. Okonjo-Iweala should bluntly tell Dr. Jonathan that he is not just incompetent but that he is impotent in fighting corruption in Nigeria. She should thus advise him to honorably resign. We know President Jonathan will not resign so, she has to demand a pragmatic approach to tackling corruption with this second demand;
Paraphrasing Benjamin Netanyahu, Dr. Okonjo-Iweala should bluntly tell Dr. Jonathan that the fight against corruption in Nigeria should not be fought with Diezani Alison-Madueke on his laps but with a rocket-propelled grenade between his teeth.  She should tell President Jonathan to stop his eyes from beholding and his concupiscence from coveting his concupiscible and corrupt mistress at NNPC.
Dr. Okonjo-Iweala should bluntly tell Dr. Jonathan that Mrs. Diezani Alison-Madueke must be removed as the Petroleum Minister as a condition for her continued involvement with the establishment of the sovereign wealth fund to manage our oil riches
Dr. Okonjo-Iweala should then admit to Dr. Jonathan that she was wrong with her approach to tackling the endemic corruption in the oil sector through subsidy removal. She should then tell him that all our refineries must be sold out rightly, the management and board of NNPC sacked and restructured as a pre-condition to future subsidy removal
Dr. Okonjo-Iweala should bluntly tell Dr. Jonathan that EFCC as currently constituted and empowered is not effective because of the obstructive interference from him, through his Attorney General Adoke. She should therefore go ahead and ask him to sack Adoke and appoint someone that will not only assist EFCC in fighting corruption in Nigeria but one that will ensure that corrupt judges are not rewarded by appointment to Supreme Court and federal high courts.
In the words of Chinua Achebe, Dr. Okonjo-Iweala should bluntly tell Dr. Jonathan that he has surrounded himself with corrupt 'Politicians with plenty of money and very low IQ.'She should remind Mr. President that money without brains is dangerous. She should ask him what he is doing with second-rate friends including Dr. Doyin Okupe and Tony Anenih. She should remind him that since the start of the oil boom in the 70s, we've had all the money, but unfortunately not the brains to take the country in the right direction.
With her mouth closed, Dr. Okonjo-Iweala should shout to Dr. Jonathan's hearing that the few smart people he appointed to work with him are intellectually lazy (including herself and Dr. Abati). With her gaze firmly resting on Mr. President's nostrils, she should tell him that there is little excuse for obviously well paid and well educated professionals to be deceiving themselves and those around them that Nigeria is being moved in the right direction by this administration.
Dr. Okonjo-Iweala should bluntly tell Dr. Jonathan that he is a diet of underdone roasted yam and owner of the trumpet of misery and deceit
Dr. Okonjo-Iweala should bluntly tell Dr. Jonathan that he is an epitome of a school master that cannot read nor write. Dr. Okonjo-Iweala should tell Mr. President that she sometimes wondered how he managed to engage his students in critical problem solving in designing research as a professor. She should then pick a piece of paper, write this down and hand it to Mr. President:  'I'm afraid Mr. President, but you are a model of foolish consistency.'
Finally, Okonjo-Iweala should advise Dr. Jonathan not to run for office in 2015 if he has ever cared for Nigeria in his adult life. She should quietly tell him that he is dumb and does not possess the leadership qualities needed to take Nigeria to where we should be heading to. She can simply convince him by reminding him that his administration has been not just one of poor moral level of leadership and competence, but also one with blurred vision.  Vision blurred by corruption, intellectual dullness and moral depravity.
Then Dr. Okonjo-Iweala should turn in her resignation, tell Jonathan to call her when demands 2 - 10 are met, quietly go home and think. Between oil subsidy removal and addressing the oil theft and government-assisted corruption in the oil sector, she should take time and think about what should come first. Critical thinking, that's what 'Global Thinkers' do.
Disclaimer:

"The views/contents expressed in this article are the sole responsibility of

pointblanknews.com

and do not necessarily reflect those of The Nigerian Voice. The Nigerian Voice will not be responsible or liable for any inaccurate or incorrect statements contained in this article."