Photos: Genevieve Nnaji; Most 'Generous' Nigeria Celeb With Men?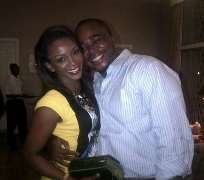 Over the weekend, Saturday, December 8, 2012, star actress, Genevieve Nnaji was at a party held in honour of the US Consul General in Nigeria, Jeffrey J. Hawkins at the US Embassy in Nigeria. The event, as expected, was classy and had only invited guests in attendance.
The pretty and talented actress was also there to add class to the party with her stunning yellow dress. As expected, Genny, as she is also called by her fans, took some pictures with some of the guests at the event which also included CNN's international correspondent, Vladimir Duthiers.
A common thing seen in some of the pictures taken by Genevieve with her fans is the way Genevieve freely and generously got glued to the guys in the pictures than her same sex. Of course, some of the guys must have 'tapped' a considerable amount of 'current' from the queen of African movie industry.
In all, Genny was looking classy in her dress.

Genevieve with CNN's journalist, Vladimir Duthiers