Group Demands Explanation From Diezani Over Link With Oil Coy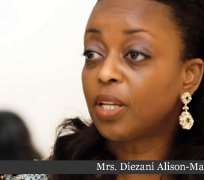 A Transparency Group-Good Governance Network (GGN) has called for an immediate explanation from the Minister of Petroleum Resources, Mrs.Diezani Alison-Madueke over her link with an oil servicing company-West African Ventures (WAV) Limited, in line with the transparent posture of the present administration.
The group expressed concerns over   the continual use of the minister's pictures in WAV's advertorials and her continued silence over the matter.
Addressing journalists in Abuja on Thursday, Coordinator of the group, Bamidele Akande, said that 'we have observed overtime the use of the minister's picture alongside officials of WAV in paid advertorials on the pages of newspapers. The latest of which appeared 0n page 51,The Guardian of Tuesday, December 4, 2012 and  page 12H, Thisday of Tuesday, December 4, 2012'.
Akande further said that information at the disposal of GGN indicate that officials of WAV which has a subsidiary -Sea Trucks group, allegedly use the name of the minister to intimidate  other players in the petroleum industry  to secure juicy contracts because of the minister's  perceived link with them.
It added that in line with the posture of the Jonathan's administration and the code of conduct for public office holders, the minister must come out and clear the air.
'We urge the minister to come out and clear the air on this immediately.
Failure will compel us to invite the relevant security agencies to look into the matter', the group threatened.
It would be recalled that two ministers in the Jonathan's administration, Godsday Orubebe of the Ministry of the Niger-Delta Affairs and Emeka Wogu, of the Labour Ministry, are embroiled in corruption scandals.