Oni, Mimiko Gallivant, Abandons state duties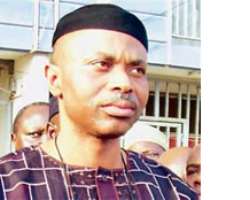 Both men belong to opposing parties, and are democratically elected state governors, but they have a penchant for abandoning their civic responsibilities and traveling abroad under the guise of seeking foreign investments. Our checks reveals that at a time when Ekiti State needs the attention of a sitting governor to concentrate deeply on purposeful governance, and people oriented programmes, the controversial Ekiti State governor engineer Segun Oni now prefers to embark on a purported investment trip to Brazil and South Africa which usually last for weeks.
Huhuonline.com can disclose that Governor Segun Oni, would be off his seat on a 10-day ''investment trip'' to Brazil and South Africa, to attract foreign investments to the state. The governor's Special Assistant (Media), Lere Olayinka, said in a statement on Sunday in Ado Ekiti, that Mr. Oni was accompanied on the trip by two state lawmakers - Peter Ajayi (PDP, Irepodun/Ifelodun) and Edward Ajewole (AC, Ekiti South/West 1).

Continuing, Mr. Olayinka said that the governor would meet with multilateral organizations "on issues bordering on the development of the state's health and education sectors." A step which opposition party in the state has referred as continuation of the old evil days in the state by governors to siphon state resources at the detriment of the people under the guise of wooing investors in the foreign land.
Similarly, People's Democratic Party in Ondo State has accused Governor Segun Mimiko of Labour Party, of siphoning the state funds into foreign accounts. Mimiko was also accused of traveling abroad without notifying the people of the state. PDP publicity secretary in Ondo Adeyemi Adedipe said this in a statement ''Governor's surreptitious trip''.


He said since Mimiko became the Governor of the State, he has refused to settle down for serious work. He said PDP is not against the governor traveling abroad in the course of governance, but however said the party could not understand the idea of the governor to run his administration under secrecy. Adedipe said the people of Ondo state are too politically sophisticated to be treated as outsiders in their own affairs. Meanwhile the chairman of Labour Party in Ondo State Chief Olaiya Oni, described as unfounded and baseless rumors that Governor Mimiko was planning to deflect to PDP. Oni affirmed that Mimiko cannot dump Labour Party which helped him to secure his mandate and that the governor is committed to deliver is manifestoes guided under Labour interest in the State.


It is however no news that both governors got to power under controversial circumstances, and they are both expected to do the bidding of the people at all cost. Records have it that Governor Oni reclaimed his seat as governor after being thrown out as governor by the tribunal, but purportedly reclaimed his mandate during re-run at the poll, a victory which is still being challenged in court by his opponent, Dr, Kayode Fayemi of Action Congress. While Segun Mimiko revalidated his own stolen mandate from the usurper Segun Agagu of PDP, through provisions of overwhelming and convincing evidences at the appeal court.



|
Article source