Akpabio Bags Scrabble Federation Grand Patron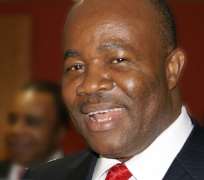 SAN FRANCISCO, November 29, (THEWILL) - The Governor of Akwa Ibom State, Chief Godswill Akpabio has been named as the grand patron of the Nigeria Scrabble Federation. The investiture was held at the Nicon Luxury Hotel, Abuja.
The ceremony was part of the events to round up the prestigious Club Championship in Abuja.
According to the president of the Federation, Engr Toke Aka, Governor Akpabio was unanimously chosen as the Grand Patron because he has been a Pillar of Support for the game of Scrabble in the country.
The Akwa Ibom State Governor funds the Godswill Akpabio Annual Classic which has the same monetary prize as the world championship.
Akpabio becomes the second Grand Patron of the Federation following the death of the Hama Bachama, Asaph Zadok. As part of the respect he has for the late monarch, he ensured a minute silence was observed at the last Classic in Uyo and during his investiture.
In his acceptance speech, Governor Akpabio traced the history of Nigeria's failure to win any medal at the last Olympic games to lack of sports at the grassroots and announced that he was at the point of returning sports to school.
According to Governor Akpabio students at various levels should be encouraged to participate in scrabble as a game that can help to build their vocabulary instead of indulging in dangerous video games that taught them to be assassins or how to break into people's home.
He pledged his continuous support for the game.

The Minister of Sports who was represented by the Director General of the National Sports Commission, Dr Patrick Ekeji, thanked Governor Akpabio for his support to the Scrabble Federation and said the Federation was one of the few which did not go cap in hand to beg for funds from the Commission to execute their programs and attributed this to the support of Governor Akpabio.
Highlight of the event was the decoration of Chief Akpabio as the Grand Patron of the Scrabble Federation and the presentation of prize money to winners at the championship.