Nigeria considers rebel amnesty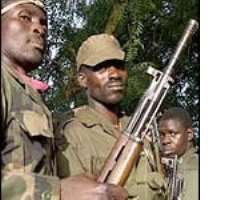 Nigeria's President Umaru Yar'Adua has said his government is considering granting amnesty to violent groups in the Niger Delta if they disarm.
Attacks and kidnappings by militants in the oil-rich Delta have cut Nigeria's oil profits by 25% in three years.
Mr Yar'Adua said the government would discuss measures including offering rehabilitation to militants and help to reintegrate them into society.
But the pledge has been dismissed as mere words by the most prominent group.
Mr Yar'Adua said he wanted ''new rules of engagement'' for the Delta.
"We are working on terms for the granting of amnesty for those who are prepared to lay down their arms," he told a meeting of leaders of his People's Democratic Party (PDP).
He also said he would empower Nigeria's military to fight the militants more effectively, providing extra funding to enable the Joint Task Force (JTF) to "acquire the proper capacity to be able to enforce law and order".
The president has called a National Security Council Summit for next week to discuss the proposals further.
'Mere statement'
The BBC's Caroline Duffy in Lagos says the Niger Delta is Nigeria's open wound - the scene of an ongoing violent confrontation between armed groups, the international oil industry and the government.
The country is one of the largest oil producers in Africa, but the attacks have severely hit its oil revenue and caused many oil companies withdraw their staff.
Some of the militants says they are fighting for a bigger share in the oil wealth for people living in the Delta.
But others use an almost complete breakdown in the rule of law to make money by extortion, oil theft and kidnapping.
The most visible group, the Movement for the Emancipation of the Niger Delta (Mend), said they would not give up their arms because of "a mere verbal statement" from the president.
"It will only be considered under a well-coordinated peace arrangement, under the supervision of a respected international mediator," the group told Reuters news agency.