Groundbreaking For 2nd Niger Bridge Set For 2013 - Minister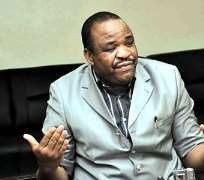 ABUJA, November 22, (THEWILL) - The Minister of Works, Arc. Mike Onolememen Thursday disclosed that the ground breaking ceremony for the second Niger Bridge would be in the third quarter of 2013.
Onolememen, who made the disclosure during the ministry of Works' budget defence with the House of Representatives Committee on Works, said the ministry was pursuing all the processes judiciously as it remains committed to accomplishing the key project.
The minister said the project would be executed under the Private-Public-Partnership (PPP), where the federal government will contribute 30 percent and the concessionaires 70 percent.
He said, "there are about two to three milestones on the second Niger bridge and the project is on PPP basis. Government will contribute 30 percent while the concessionaires will bring 70 percent."
On the 2013 budget, the minister said a total of N183.504 billion has been proposed for ministry made up of N151.250 billion as capital and N24.441 as overhead with N7.842 billion for personnel cost.
He said the budget was aimed at completing all ongoing projects.
Speaking on the performance of the 2012 budget, the minister said from the N199 billion appropriated, N73.247 billion representing 51 percent has so far being released adding that N540 million was also released for overheads between January and October.
Earlier, chairman of the works committee, Hon. Ogbuefi Ozomgbachi promised that the budget would be critically looked into by the committee and appropriate recommendations would be made to the House.
He said the committee was not pleased with the state of roads in the country and advised the minister to step up efforts in monitoring of projects.