Education, A Bequeath-able Legacy - Delta Speaker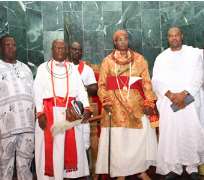 SAN FANCISCO, November 01, (THEWILL) - The Speaker of the Delta State House of Assembly, Rt Hon Victor Ochei fnse, has urged Deltans to encourage educational endeavours, as it is the only bequeath-able legacy, to coming generations which will ultimately engender societal growth.
He made the call in Warri when the Olu of Warri, Ogiame Atunwase II inaugurated the board of trustees and the management team of the Itsekiri Education Trust in Warri recently under the aegis of the Warri National Council.
Hon Ochei who was the chairman on the occasion said that his advice stems from a personal experience based on his late father's advice that ''education is the only enduring legacy parents could bequeath off springs as other endeavours are time bound''.
The legislator observed that while most accomplishments may not command continuing generational value, education stands out as a timeless tool necessary for the advancement of individuals and the society.
He therefore poured encomiums on the Warri monarch for his foresight by initiating the project, which he described as a durable factor in uplifting the socio-cultural status of the society.
Delta state Governor, Dr Emmanuel Uduaghan who was represented by Professor Patrick Muoboghare, the commissioner for basic and secondary education, expressed delight and support for the venture, which he said enjoys historical relevance, citing the founding of Hussey College, Warri by the Warri Cultural society as successful reference point.
He maintained that in establishing the institution, the founding fathers of the college may not have envisaged the positive role the college would play in the society's educational perspective, as beneficiaries were not limited to the Itsekiri ethnic stock alone.
In his speech, Ogiame Atunwase II urged the teams to explore all avenues in ensuring that no one is left out in the march and aspiration to meaningful development for the people adding that ''education is what should touch everybody and we want that no child would henceforth be left untouched by it''.
The monarch further implored those yet to be assigned roles in this project to show willingness and readiness in ensuring that the scheme comes to fruition.
Also speaking, Chief Brown Mene, chairman of the Warri National Council opined that the scheme was conceived with a twin purpose of providing and managing learning institutions with the environment that will enhance and optimise holistic learning as well as ensuring that no child would be hindered by the lack of personal fund and mentorship from reaching the utmost learning capacity.
He gave the assurance that ''the proposed institution would be open to all Nigerians, irrespective of tribe or religion as the ultimate goal is to produce individuals that would be adequately equipped to serve Nigeria and mankind whether at home or abroad''.