Rice and beans lured me into acting -Baba Wande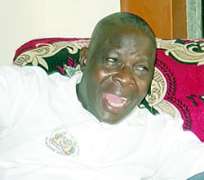 Kareem Adepoju, popularly known as Baba Wande, is one of the most popular faces in the movie industry. He recently featured in a yet-to-be-released movie, The gods are still not to blame. In this interview, he takes LAWRENCE AMAKU down memory lane, his illustrious career while also expressing his frustration with some anomalies in the movie industry, even as he said he remained fulfilled as an actor.

RECENTLY, you featured in The gods are still not to blame. What role did you play in it?
I was one of the chiefs. It was shot in Ikorodu.

Five languages were used in the movie, including English, French, Yoruba and Igbo. Did that not pose any serious challenge to you?
It is not everyone that speaks all languages. It depends on where each character featured.

Which language(s) did you speak in the drama?
I spoke English and Yoruba.

Was that the first time you would feature in an English movie?
No, it isn't. I remember featuring in a movie Well of Fame, some years back.
What difference do you see in the Yoruba movies and English movies?
You see, there isn't much difference. What I want to say is that people think that our Igbo movie counterparts are better than us, and I want to correct that impression. In Yoruba movies, there is room for one to express himself, there is flexibility, unlike in the Igbo movies where you are restricted to the script and are not allowed to input your own ingenuity. Even in scripted Yoruba movies, after handing the script to you, you are told not to limit yourself to it, but invent your own expressions or ideas.
Have you raised the issue with their producers before?
We've not started discussing that with them. The producers always insist that we stick to the script.
But some of them who have featured in Yoruba movies, haven't they seen the need to adopt such style?
They don't know, if they do, they would have taken a cue from us. It is the Yoruba movie viewers that appreciate such. That is the key ingredient in our movies. Besides, it enables you to deal with spontaneous situations.
Who mentored you in the art of theatre?
Baba Oyin Adejobi.
When was that?
It's been long, I think in 1963.

What lessons did you learn from him and how did they influence the development of your own career?
The lessons were many. You know he was highly talented; he could sing and act very well. but because he was physically challenged, when he saw the talent in me, he made me shoulder most of the responsibilities and operations.

So, that made me to develop quickly and with time, I started directing also. Then we were involved in the travelling theatre.

For how long did you work with him?
25 years

You just talked about the travelling theatre, can't it still be revived?
Well, I don't know what can be done to revive it. Those who are in the position to do so are not willing to act. It is very expensive and cumbersome. Imagine that you want to stage a play, you go and recruit artistes, you rehearse for two or three months to master the movements on the stage and go and fetch vehicles to transport human and material resources.

So, this is what made people to favour film over the theatre at its advent. But if the educated ones had made government realise the need to sponsor the theatre, it wouldn't have gone into extinction.

But government had never at any time intervened in the industry by way of grant or budget allocation. Nollywood, for instance, is self-made.

You see, at that time, there were no companies interested in sponsoring theatre groups. Even parents, especially the well-to-do ones, did not encourage their children to take to acting. ...

When and how did you discover your talent for acting?
When I was in primary school, Baba Oyin Adejobi used to teach people church songs. There was an Ansar-ud-Deen society there then. They used to think of how to raise money to pay the alfas teaching the Quran in public schools. So, parents who were members of the society took the responsibility upon themselves to raise money to pay the alfas, since government was not the one paying them.

So, they would go about staging dramas and the money realised from it would be used to pay the alfas. I was in school then and I picked interest in the scheme and I jumped at it.

Whenever they asked "who are those interested in participating in drama?" I would quickly signify intention. However, many people regarded it as a frivolous and unserious vocation then. But the interesting thing there was that we were not even paid. Our only reward then was rice and beans which we ate with delight. When I left school, I joined Oyin Adejobi group. We acted dramas like Adam and Eve and Joseph and his brothers.

Did your parents encourage you?
No, they discouraged me, like many parents would at that time. They treated theatre with contempt. But thank God that nowadays, more and more parents are beginning to appreciate acting as a career.

Which of your movies that you acted in can you say really stands out from the rest?
Well, I can't really single out any one in particular. But some of the ones that I am really proud of are Aiye, Mosebolatan, Ija ominira. These were classics.

How did you come about the stage name, Baba Wande?
There is this book entitled; Ile ti a fi t'omo, written by a professor in Ilorin, which we dramatised and recorded for WNBS and WNTV. I was known as Baba Wande in the play.

Then the practice was that if you played the role of a thief, prisoner, night soil man or even a policeman, when people saw you in the streets they will start calling you by the role you played. It got to a time that actors started turning down the role of notorious or unpleasant characters in plays so as to avoid bad name tags. So, in order to avoid this, we decided to adopt good stage names for ourselves which we stuck to. I chose the name Baba Wande, someone chose Alabi Yellow, Tafa Oloyede, Iya Osogbo and Iya Wande— these were our group members.
But how about an actress that bears Asewo to re Mecca?
She derived the name from the movie with the same name. Anyway, she probably didn't bother to change it. Maybe because of the instant fame that came with it or because women love to be called asewo.

How well did the name stick?
Yes, people know me more by the name than my real name. For example, if I'm at a public gathering and the master of ceremony does not want people to recognise me, he will introduce me by my real name, because many people don't know me by that name.
Who's your role model?
Well, there is no one in particular I can say is my role model.

You had an Islamic morality TV play, Iwa l'esin, that ran for some years. What motivated the project?
Arisekola was the one who sponsored the play then. It stopped running because of the delay in payment for airtime. Even now, we are proposing reviving it and have already started having talks with the sponsor since there is a popular demand for it.

The motivation came from the observation I made then whenever I went to mosque on Fridays that people were no longer interested in listening to religious exhortations and hardly made out time to read the Quran; they would rather spend time watching movies.

And you know anything you watch leaves a lasting impression on your mind. So, we thought of dramatising some of the moral teachings in the Quran.

Safe for the movie you featured in recently, you've been scarcely involved in movies in the last couple of years, is it a sign that you are calling time on acting?
No, the reason is that it is the marketers that sponsor films and it is whoever they like that they will feature.
Besides, I have some unresolved issues with them; there are outstanding amounts that they owe me. Some of them will sell my works and refuse to pay me.

There are growing complaints about exploitation by marketers, what is the Association of Nigerian Theatre Practitioners (ANTP) and the Nigerian Actors Guild doing to curtail this?
Nothing can really be done about it, nobody feels concerned. It is we the artistes that bear the brunt. The marketers are the ones that bankroll the movies, so they do things they way they like.
Is there no effort by your professional bodies to market your products yourselves so as to stem the influence of the marketers?
I think we are even the cause of our own problems, because we have artistes who are also marketers and marketers who are also producers; the whole thing has intertwined. So, how can we fight for our own interest when some people seek to protect their own interest. That is why those of us who speak out against the system are often marginalised—the reason, as you rightly observed, I don't feature regularly in movies. My belief is that it will come to an end someday; just as everything that has a beginning has an end.

What has been the Nigerian Film Corporation (NFC) stance on this?
The matter is not within the purview of the NFC. Theirs is just to censor films.

Why have you shown preference for serious drama over comedy, despite the fact that you are naturally inclined to comedy?
Right from the outset, I have always been of the view that anyone that wants to entertain must use only a minute on the stage to make people laugh.
You should rather do things that will make people cry, reflect and empathise with the characters. If not comedy, what again would you have done?
I would have been a footballer. I was a committed footballer in school then. If I had furthered my education up to the university level, I would have probably been a footballer.

What scuttled your education?
Our father was not educated, we only forced ourselves to acquire the little formal education we had.

What was growing up like—your educational background?
We started with Quranic education. Then our alfas refused us going to the school established in our community. But we insisted we must go. We would sneak out to go and play football and from there attend classes; after all, then formal education provided by Chief Obafemi Awolowo was free. That pitched us against our alfas who berated us and called us renegades.

What experience did you have a then as a child that inspired you?
I remember the country was better then than now. There was a high level of discipline, and societal values were held in esteem.
Do you have any regrets about your career?
They are many. One of them is what I hinted on earlier about the activities of marketers. Imagine that you've been in a profession for donkey's years and you expect that ordinarily by now, you should be calling the shots there, rather you are being treated as a slave and marginalised. Sincerely, I don't feel proud being addressed as a veteran artiste, because there is really nothing to show for it. And government is doing nothing about it. That notwithstanding I still feel fulfilled with the fame and recognition the career has brought me, despite my little education. I am proud to say that it has taken me all over the world.

Is there any of your children taking after you?
Well, none of them, for now. Some of them have participated in my films, but none of them has really taken up the profession.
When are you retiring?
There is no retirement in this job. Of course, we have time for rest. Theatre is an exercise. Even when you rest for too long, you may take ill.
What project are you working on now?
It is the Omoluabi drama currently airing in some Osun State television stations. The concept is similar to Iwa l'esin. It is sponsored by the Osun State government and seeks to instil in the people of the state the Omoluabi virtues and teach morals