FG STRENGTHENS INFECTION CONTROL POLICY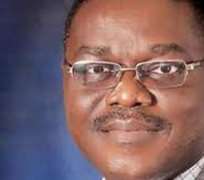 Minister of Health, Professor Onyebuchi Chukwu
The Federal Government has reiterated its commitment towards reducing avoidable deaths caused by infection in hospitals.
One of the steering committee members for the policy formulation, Prof. Folasade Ogunsola, made this known to journalists at a workshop organised by Johnson&Johnson for nurses, surgeons and operating theatre managers from major hospitals across Lagos recently.
She added that the Federal Government through the Ministry of Health was at its final stage of introducing infection control.
The workshop focused on dealing with the problem of Hospital Acquired Infections (HAIs) and ways of achieving better infection control.
Ogunsola, who was the keynote speaker at the workshop, highlighted various strategies for achieving better infection control outcomes and urged participants to commit to stricter adherence to the global best practice in their hospitals.
Ogunsola, a consultant medical microbiologist and infection control expert at the College of Medicine, University of Lagos, Idi-Araba, said that the committee was about to submit the final draft of the policy.
She said, 'Hospitals are rich deposits of disease-causing micro-organisms, thus Hospital Acquired Infections is a major problem even in developed health care systems. The burden of HAIs is expectedly heavier in developing countries such as Nigeria. One of the major reasons a high prevalence of these infections remains, is because conventional disinfection methods of spraying and wiping do not fully protect patients, health care professionals or communities against major pathogens.
'Poor infection control practices will continue to have negative consequences for patients and even health care workers especially in surgical wards and operating theatres.'
Speaking on the aim of the workshop, the Business Development Manager, J&J Medical Anglophone West Africa, Chima Gaius, said, 'Patients care is at the heart of all we do at J&J. This informed our desire to continue the development of infection control in Nigeria not just through our high-quality products but also through professional health education. We believe with up-to-date expertise and the right tools, we can begin to expect better results for patients in Nigeria.
'J&J, a global leader in medical devices, diagnostics and disinfectant solutions through its subsidiary company, Advanced Sterilization Products (ASP), has taken the laudable step of supporting infection prevention and control initiatives across the country through advocacy, workshops and training for health care workers.'