REPS SUMMON FOREIGN AIRLINES OVER LANDING PERMIT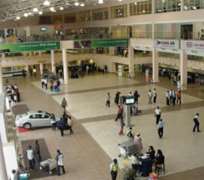 The management of four foreign airlines were summoned on Tuesday by the House of Representatives over claims that they were denied permit to operate flights into the Mallam Aminu Kano International Airport, Kano.
The affected carriers are Turkish Airline, Emirates, Ethiopian Airlines and Asky Airlines.
The House had last week mandated its Committee on Aviation to investigate the matter after a member alleged that the Minister of Aviation, Ms. Stella Oduah, had denied the airlines permits to operate in Kano.
The member, Mr. Ali Madaki from Kano State, said he was in possession of series of correspondences between the Ministry of Aviation and the airlines.
On Tuesday, ministry officials appeared before the House committee to dispute the allegations of the lawmaker.
Madaki, however, stood his ground and tendered copies of correspondences he insisted had exchanged between the ministry and the airlines before the committee.
Due to the conflicting submissions, the Chairman of the committee, Mrs. Nkiruka Onyejeocha, summoned the management of the airlines to state their own side of the case.
The Permanent Secretary in the ministry, Ms Anne Ene-Ita, who represented Oduah, told the committee that there was no time the minister denied the airlines landing permits.
She also said the airlines did not need to apply for landing permits because there were subsisting Bilateral Air Service Agreements between Nigeria and their home countries.
In the case of Turkish Air, Ene-Ita told the committee that the airline only requested to expand its existing landing schedules in Nigeria, which the ministry was already working on.
The permanent secretary said a meeting to finalise the deal had been fixed for December in Istanbul, Turkey.
'That is the procedure; they came here first and the procedure requires that we should also visit them to see what is on the ground,' she added.
She said some of the airlines on their own abandoned Kano because they complained that it was not commercially viable.
Although Madaki tendered letters, some dated as recently as May 2012, the permanent secretary insisted that she was not sure that the letters were acknowledged by the office of the minister.
'The airlines have a subsisting BASA; they can fly today if they choose to. We can't stop them; this complaint is strange to us,' Ene-Ita said.