Again, Reps Express Dismay Over Non Implementation Of Budgets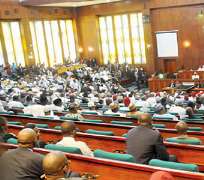 ABUJA, October 17, (THEWILL) - The House of Representatives panel on Agriculture and Rural Development Wednesday visited the Nigeria Agricultural Quarantine Service (NAQS) and expressed dismay at the level of performance of the capital budget by the agency.
Chairman of the Committee, Hon. Mohammed Tahir Mongunu who led members to also visit the Agricultural Research Council of Nigeria (ARCN) located in Abuja decried the poor implementation of the capital budget by the council, a development he said does not augur well for the wellbeing of the country.
He said, "So far, in all the agencies that we have visited the level of implementation of capital projects stands at 40 percent and we are in the last quota of the fiscal year. This is not satisfactory and a lot more needs to be done".
Mongunu lamented that the poor implementation of the capital budget by agencies of government stating: "In this country, year in year out the appropriation Act as regards to the capital aspect of the budget is not implemented in accordance with the spirit and letters of the appropriation Act.
"Most of the time at the end of the year we only achieve 30 to 40 percent level of implementation of the capital project but we achieve 100 percent in terms of overhead and personnel.
"So it has become worrisome for the National Assembly because it is the capital aspect of the budget that has direct impact on the living standards of Nigerians, and its low level of implementation will definitely have an adverse effect on the generality of our well being."
He said the Committee would submit its findings to the Chamber at the end of the visits to enable parliament take an appropriate decision on the matter so as to chart a way forward.
Earlier, the Coordinating Director, Nigeria Agricultural Quarantine Service, Dr. Mike Nwaneri Kanayochukwu lamented the low level of funding to the agency and called on the National Assembly to facilitate an increase in its budgetary allocation to enable it pursue it's laboratory enhancement programme, and implementation of a quarantine information system among other requirements.
According to him, the NAQS has suffered neglect over the years and therefore require urgent resuscitation by the government to enable it carry out its mandate.
Similarly, the ARCN Executive Secretary, Professor Baba Yusuf Abubakar lamented the absence of agricultural research system in Nigeria and expressed the need for adequate funding of research efforts, so as to elevate the status of agriculture in the country.