Nigeria President Delivers Disputed 2013 Budget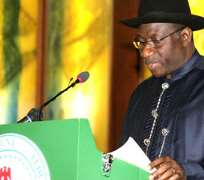 Nigeria's President Goodluck Jonathan on Wednesday presented a 4.93 trillion naira budget to parliament for 2013, increasing spending but shrinking the deficit and cutting the share taken by recurrent expenditure.
In a sign there was likely to be a showdown between cabinet and parliament the cabinet over the bill, speaker Aminu Tambuwal said the house had proposed to inflate cabinet's oil price assumption in the 2013 budget to $80 barrel, from $75 a barrel, triggering cheers from fellow legislators.
Jonathan's budget proposal saw the fiscal deficit coming down to 2.17 percent of GDP, from 2.85 percent previously, assuming the economy grows at 6.5 percent, he said -- a lower projection than this year's expected 6.85 percent growth.
It assumed oil production of 2.53 million barrels per day (bpd), up slightly from 2.48 million bpd this year, and a global oil price of $75 a barrel, up from $72 a barrel in this year's.
Money earned from oil over the benchmark price is deposited into a savings account, so any increase in that price could reduce savings and make Nigeria less resistant to oil price shocks. Nigeria's Finance Minister Ngozi Okonjo-Iweala is on an austerity drive and wants the country to save more.
But lawmakers, who have been grumbling about delays in their allowances in the execution of the 2012 budget, were in no mood to accept such a slight increase in the benchmark.
Such disagreements have happened before, and parliament has usually succeeded in boosting total spending.
In his speech, Jonathan urged parliament to accept a tighter budget because of ongoing uncertainty over oil prices. Oil makes up around 80 percent of Nigeria's revenues.
"This threat of oil price volatility remains constant and forces us to rely on a prudent methodology when calculating the benchmark price," he said.
"These are uncertain times in the world economy. We've taken necessary steps to mitigate possible negative effects ... of a global recession."
He proposed cutting recurrent expenditure -- the cost of running the government -- to 68.7 percent of the total budget, from its current 71.47 percent. Economists have urged Nigeria to slash what they say are extortionate state running costs.
Jonathan added that the government would issue a $1 billion Eurobond next year to finance a gas pipeline for domestic use.
REUTERS