Islamist Clash in Nigeria Ends in Deaths, Arrests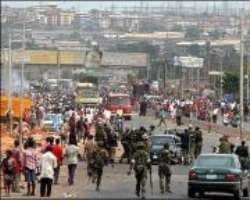 At least 100 suspects have been arrested following clashes Sunday in northern Nigeria between security forces and armed Islamic fundamentalists that left dozens dead, according to news reports and a police spokesman.
Exact casualty figures weren't known. Police reported that all the dead were militants.
"A group of religious fundamentalists who believe that anything related to Western education is completely prohibited attacked a police station in Bauchi this morning," Bauchi police spokesman Mohamed Barau told The Wall Street Journal.
He said the attackers used bows and arrows, locally made grenades, guns, knives and sticks. Security forces tracked the men to a residence and "upon arriving there the men opened fire, and the police, in self-defense, returned fire and shot some of them," Mr. Barau said.
He said the situation was under control after more than 100 suspects were arrested.
A nighttime curfew was declared in Bauchi for the next few days to calm tensions. There was an increased police presence in some neighborhoods, but businesses remained open and people were milling the streets freely before the curfew, Reuters reported. The report said a possible motive for the attack was the previous arrest of the militants' leaders.
Mr. Barau earlier told the Associated Press that 39 of the attackers had been killed, but when reached by phone, he said he couldn't confirm a casualty figure.
"The group has been preaching fundamentalism; we've been monitoring their activities for the past three to four months," Mr. Barau said. "They preach that our people should withdraw from Western education completely and that people of Western education are prime targets."
Bauchi is one of a dozen states in northern Nigeria that practices a form of Islamic law. The country is divided between a largely Muslim north and predominantly Christian south. Periodic clashes between the two populations have left thousands dead in recent years.
In November, more than 700 people were killed in the northern town of Jos after disputed local election results led to two days of sectarian fighting, according to Human Rights Watch.
By: Will Connors