Terrorism: Presidency Effects Change of Guard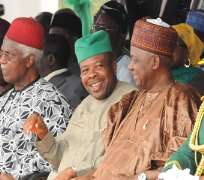 ABUJA, October 01, (THEWILL) - A new battalion has been established to assume control over security within Abuja and contiguous states.
The Special Forces unit, which joins the conventional 7 and 177 battalions of the Brigade of Guards, in response to the security challenges in the country due largely to activities of the Boko Haram Islamist sect, was unveiled on Monday at a change-of-guard parade to mark the 52nd independence anniversary of the country.
The presentation of national and regimental colours to the newly established 176 Special Forces Battalion of the Guards Brigade featured 160 officers and men of the Guards Brigade of the Nigerian Army.
According to Special Adviser to the President on Media and Publicity, Dr. Reuben Abati, the ceremony was "special and grand" in marking the independence of a nation.
Abati also refuted widespread impression that the event was moved to the villa for security reasons.
"The anniversary is also low-keyed this year, taking place within the precincts of the State House. President Jonathan has personally responded to the allegation that the event is being held within the State House by making it clear that in 2014, we will have a big event — the centenary of Nigeria's celebration since amalgamation," he said.
"A few years ago, we had the 50th anniversary of Nigeria's independence and that was a big event. The president's take on this is that between that 50th-year anniversary and the centenary of Nigeria's amalgamation, we should have low keyed celebration. Those who are looking for celebration on a grand scale should wait till 2014 when we will have the 100th year of Nigeria's amalgamation."
President Goodluck Jonathan witnessed the presidential Change of Guards Parade involving foot and arms drill, rhythmic and calculated checking of weapons, and uniforms, posting sentries and colour parade, after which he presented the national and regimental colours to the new battalion.
Other dignitaries at the ceremony were Pastor Ayo Oritsejafor, president of the Christian Association of Nigeria (CAN); Chief Imam of Abuja National Mosque, Sheik Usman Muhammad; Vice President Namadi Sambo; President of the Senate, David Mark; Deputy Speaker of the Federal House of Representatives, Emeka Ihedioha; and former Head of State, Gen. Yakubu Gowon.