Power Generation Will Rise Above 7,000MW By December, FG Assures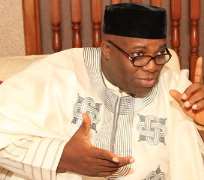 ABUJA, September 12, (THEWILL) – The Federal Government on Tuesday again assured on increased power generation in the country, with a promise that more than 7,000MW of electricity would be generated by December 2012.
It also disclosed that gas supplies to the three major National Integrated Power Projects (NIPP) base stations at Alaoji, Olorunsogo and Sapele have increased to 240million standard cubic meters.
Speaking with journalists on a variety of issues, Senior Special Assistant to the President on Public Affairs, Dr. Doyin Okupe confirmed that the country's foreign reserve is in excess of $39 billion, and equally defended the conferment of the national honour of Grand Commander of the Order of Niger (GCON) on the chairman of Globacom, Mr. Mike Adenuga.
Reacting to reports that power generation in the country has dropped to as low as 1,000MW, Okupe told newsmen that the annual gas supply for the three power base plants is 60 million standard cubic meters each, making a total of 180 million standard cubic meters.
"What we have now, for the three power base stations, is an improved 240 million standard cubic meters, due to the emergency declared by President Goodluck Jonathan on gas supplies," he said.
"Shell Petroleum Development Company (SPDC) is also adding another 100 million standard cubic meters, and this will automatically lead to more than 7,000 megawatt power generation before December this year. And also, longer hours of power supplies and excess power generation of 2000MW will be added to the national grid by December."
From December, he boasted, Nigerians would have no need for generating sets.
On the economy, he revealed that while the Excess Crude Account has $10 billion, the foreign reserve of the country has risen to $39 billion, and that it would hit the $50 billion mark soon.
Quoting the President of the Manufacturers Association of Nigeria (MAN), Kola Jamodu, Okupe said more than 240 new industries have opened with over N400 billion investment and more than 200,000 employees. He put the capacity utilisation in the manufacturing sector as between 69 and 70 per cent.
"This is an improvement in the economy and in ensuring capacity and investment confidence in the system," he enthused. "With $10 billion in the Excess Crude Account, it will serve as a shock absorber against any national emergency."
He identified the transportation sector as one other where enormous progress is being made, saying the Western Line railway route of Lagos to Jebba with 488 kilometers has been completed, while that of Jebba-Kano with a distance of 638 kilometers is literally done, save the bridge construction in Minna, Niger State. This, he said, will be completed before the end of the year.
"The Abuja-Kaduna railway track of 188 kilometers has reached 35 per cent completion with terminal date of 2014, while the Lagos-Ibadan route is to be completed by 2015," he added.
Okupe also had time to react to allegations that Mike Adenuga's Conoil has flouted the laws of the federation many times, especially in the fuel subsidy scam, and so its owner does not deserve the national honour, saying, "The Federal Government is proud of achievements of Adenuga in Globacom. His company competed among foreign companies and created the necessary impact. He deserves the award … Any company that goes contrary to the laws of the country will meet justice."