ACN Not Morally Fit To Criticise Us, Says PDP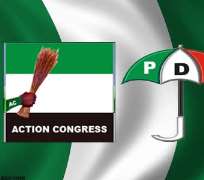 SAN FRANCISCO, September 11, (THEWILL) - The Peoples Democratic Party (PDP) in the Southwest has condemned the Action Congress of Nigeria (ACN) over its persistent criticism of the Federal Government, describing it as a party (ACN) lacking the moral rights to criticise anyone.
PDP said that instead of criticising every step federal government decision, ACN should busy itself with finding solutions to the human miseries in Lagos State, which is the 3rd worst place to live in the world
"Time has come for the ACN to be told to face the failure that it has become in the Southwest, especially Lagos State, which in spite of its huge internally generated revenue of over N25b per month is not only the highest debtor state in the country, but parades one of the worse Human Development Index in Nigeria," the zonal publicity secretary of PDP, Hon. Kayode Babade wrote in a statement released on Tuesday.
Babade further wrote that while PDP agrees that government at all levels should be criticised constructively, it must say that a party of fraudsters, perjurers, ex-convicts and document forgers like the ACN lacks moral rights to turn itself to a perpetual critic of every action of the Federal Government.
"Apart from taking ridiculous loans, awarding 1km of road at over N1bn and plunging the southwestern states into debt, what development have they brought to the States they are ruling?" the statement queried.
"Has Lagos not failed? Have they (ACN) not mismanaged Lagos to become the 3rd worst city to live in the world? Is Lagos not the highest debtor-state in Nigeria? If the ACN people love Nigeria and its people as they claim, why are they not worried about the human misery that Lagos has become now? Why are they not worried about the state of Lagos and the huge debt they have plunged the state into??
"If within 13 years, Lagos has been run by the ACN to become the 3rd worst city in the world, only God knows what the entire country would have become if it were to be in the hands of the ACN."
The statement also quotes PDP as arguing that if any party should criticise the PDP-led Federal Government for any reason, "that party should not be the ACN that plunged Osun State into N120bn debt and Ekiti State into N30bn debt within two years."