NCPC Chairman Charges Air Carriers On Service Delivery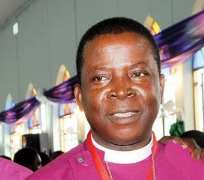 SAN FRANCISCO, September 11, (THEWILL) - Executive Secretary of the Nigerian Christian Pilgrim Commission (NCPC), Archbishop Nicholas Okoh has charged Air Carriers for the 2012 Christian pilgrimage to deliver on their services and promises.
Okoh gave the charge in Abuja at the signing of Air Carriers Agreement by NCPC and the two selected air carriers that would airlift Nigerian pilgrims to Israel, Rome and Greece this year.
He described the signing of the Air Carriers Agreement as a very major process in getting this year's pilgrimage actualised, tasked the two selected air carriers on quality of Aircraft. He stressed that the competence of operators should not be undermined considering recent tragedies in the Nigerian aviation sector.
"Mr President has said that you should ensure you have a new Aircraft, we will not like to manage an aircraft," Adding that the commission is also interested in the age of the aircrafts to be used in flying Nigerian Pilgrims to the Holy Land.
In his own remarks, Mr. John Kennedy Opara, the executive secretary of NCPC, stressed that even after the signing of the Air Carrier Agreement, any carrier that fails to abide by the terms and conditions of the agreement would be kicked out.
"The commission would provide the enabling environment for the air carriers to operate successfully without hitches and provide the pilgrims for them to airlift," he said.
The carriers who signed the agreement with NCPC were Atlas Jet Airline, Empire Aviation, and KS Travels and Tours, who are in partnership and they are to use the services of Ethiopia Airline for the airlift of pilgrims this year.
In his response after the signing ceremony, the representative of Atlas Jet Airline Mr. Serkan Yarkioglu, an executive director in the company, expressed confidence that his airline could proudly boast of 17 Aircrafts in its fleet and described the airlift of pilgrims as a special and not commercial operation.
Also in his own response, Mr. Lekan Smith, managing director, Empire Aviation affirmed that as a Nigerian Company, it has a great stake in the success of this year's pilgrimage operation, saying "As a Nigerian company, we feel pained with what happened in Dana. We have learnt our lessons and we want to prove that good things can come out of Nigeria. We are partnering with an airline (Ethiopian Airline) that has been flying for 50 years without accident.