Yar'Adua To Announce 2009 Hajj Fare Next Week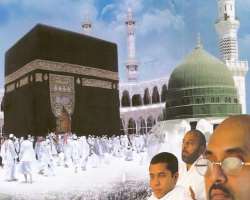 By Deji Wale Fadeyi, Abuja
Preparatory to this year pilgrimage to Saudi Arabia by Islamic faithful in the country, President Umar Yar'Adua will next week announce the fares for the exercise, Secretary to the Government of the Federation, Alhaji Yayale Ahmed said in Abuja.
Speaking yesterday while declaring open at a two-day forum on Moon-sighting, observation of Islamic festivals and certain hajj issues organised by the Nigeria Supreme Council for Islamic Affairs (NSCIA), the SGF said that the President is looking at the various options to cushion fluctuating exchange rate on pilgrims.
"There are various scenarios, if you take N150 per dollar, there would not be any subsidy and it is going to be very hard on pilgrims, we have to spent about N6 billion on them; if you go to N130 or N140, government is looking at various options, but certainly we cannot maintain the N120 for a dollar, it would be unrealistic and since we want to encourage people to perform their religious obligations through very responsible intervention both to the Muslim and Christian pilgrims.
"Very soon, as soon as we are through with Mr. President it would not take more than one week, Insha Allahu. Mr. President would look at the various options to cushion the effect of fluctuating exchange rate on pilgrims even if you would not call it subsidy to allow people to perform their obligation," Yayale said.
He equally revealed that the federal government has been worried about the proliferation of religious groups and sects in the country noting that the situation has the potentials of creating confusion in the country.
On the proliferation of religious sects and groups, he said, "We are disturbed by the proliferation of religious bodies and sects in the country and which has potentials of leading to confusion and social disorder.
He however explained, "It does not point to any act of terrorism but it is showing that we are not educated but ignorant of our religious obligations. If we as religious leaders, Muslim or Christian emphasise on the need to educate our people to be tolerant and know their religious obligations, there is no terrorism in the country."
Yayale said that Nigeria was exposed to lots of controversies due to the problems of moon-sighting which led to the observation of Eid celebration when pilgrims were undergoing Arafat right in Saudi Arabia.
He disclosed that security reports after the last Eid-l-Fitr and Eid-l- Kabir revealed that most Nigerian Muslims want moon-sighting and observation of Eid celebration to be in line with those of other Muslim world.
Sultan of Sokoto and President-General of the NSCIA, Alhaji Muhamadu Sa'ad Abubakar, who emphasised the place of dialogue in Islam at resolving crises said that the meeting was part of the many programmes line up by the council to find lasting solutions to problems confronting Muslims in the country.
He called on the generality of Muslims in the country to be united as according to him Muslims can only make meaningful impacts in the country when they are united and speak with one voice all the time.
|
Article source