Lagos-Ibadan Expressway Still In The Hands of Bi-Courtney, Says FG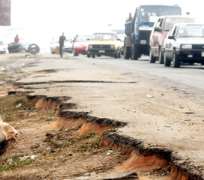 ABUJA, September 05, (THEWILL) – The Federal Government on Wednesday denied reports that it had withdrawn the concession of the Lagos-Ibadan Expressway to Bi-Courtney Highway Services.
Minister of Works Mike Onomelemen, speaking with State House correspondents at the end of the weekly meeting of the Federal Executive Council (FEC), described the reports as untrue and assured of the federal government's commitment to delivering the road immediately the rainy season is over.
It had been reported that the Federal Government withdrew the road from the Bi-Courtney, which has done very little on the road since winning the contract on 26th May 2009 and has seen its unpopularity among the people soar, as a result.
"That report is news to me. It is a rumour making the rounds. I am oblivious of that information," Onomelemene said.
"What I can say is that the Federal Government, through the Ministry of Works, is determined to ensure full rehabilitation of that road. It is a task that we must deliver. We are engaging the concessionaire and the engagement still on. I can assure you that immediately after the rains, the job will be done. We are committed to doing that. Once the final action plans are raised, we will let Nigerians know."
Several years after Bi-Courtney won the contract for the road, construction works are yet to begin, prompting public office holders, most prominent of whom is governor of Ogun State, Senator Ibikunle Amosun, to demand the revocation of the concession agreement.