Fake Explosive Device Causes Scare In Delta State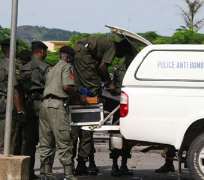 ASABA, September 04, (THEWILL) - An object planted at the gate of the Delta State Cabinet Office in Asaba on Tuesday was mistaken for an improvised explosive device, spawning high-level fears that meant workers at the premises refused to enter their offices for hours.
The offices at the Cabinet Office include that of the state's head of service.
A source said the device was first noticed early in the morning by a cleaner, who promptly alerted security men; the security men then informed the senior staff of the office.
The device, wrapped in a red cloth and fastened to a stop watch, was later inspected by men of the Anti-bomb Squad of the Nigerian Police and confirmed not to be an explosive. But by then, some of the scared staff had returned to their homes; others later, at about 10:00am, entered their offices.
Speaking on the incident, Mr. Ikechukwu Aduba, commissioner of Police in the state, explained the device was mischievously planted there, as it was not an explosive.
"It is a mere scare and there is no way this can explode," Aduba said while addressing newsmen at Government House, where he took the device to.
Governor Emmanuel Uduaghan spoke also, agreeing with the commissioner, saying the incident was the handiwork of mischief makers bent on distracting his government and promising to remain undeterred by such distractive plots.