Senate Leadership Warns Akume Against Inflammatory Remarks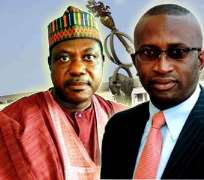 ABUJA, August 23, (THEWILL) – Majority Leader of the Senate, Senator Victor Ndoma-Egba on Thursday cautioned minority leader of the Senate, Senator George Akume to concentrate on providing expected leadership for the minority parties in the upper legislative chamber and refrain from making inflammatory statements that can cause crises.
Ndoma-Egba made the warning in response to reports claiming knowledge of Senate majority's plot to remove Akume from office as the minority leader. He denied that such plot was on.
"Our attention has been drawn to newspaper reports stating that the Senate Minority Leader, Senator George Akume, claimed that there is a plot to remove him from office and that the Senate majority leadership is behind the alleged plot," a press statement signed by Ndoma-Egba wrote.
"Senator Akume has not denied this widely reported statement as credited to him that the Senate majority leadership is behind an alleged plot to remove him as minority leader of the Senate. The Senate majority leadership is not aware of any plot to remove the Senate minority leader, Senator George Akume, from office except what has been published in the newspapers by him and his party, the Action Congress of Nigeria (ACN)."
He emphasised that the workings of the National Assembly, particularly the Senate, do not place the emergence or removal of a Senate minority leader within the powers of the Senate majority leadership.
"Senator Akume's allegation is, therefore, a tissue of unguided and misplaced falsehood. The allegation smacks of ignorance on how Senate businesses are conducted because the majority party does participate in the election or removal of the Minority Leader.
"It is, therefore, imperative to state, for the avoidance of doubt, that the Senate majority leadership is neither interested nor involved in any alleged plot to remove Senator Akume as Senate Minority Leader."
Ndoma-Egba then urged Senator Akume to "provide the expected leadership for the minority parties of the Senate and stop making inflammatory statements that will create a semblance of crisis in our cohesive and united Senate."