Court Expected To Reinstate Romanian President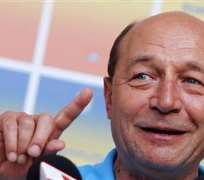 Romania's Constitutional Court was expected to rule on Tuesday that a referendum to impeach suspended President Traian Basescu is invalid - a decision that would return him to office and could prolong his power struggle with the prime minister.
The battle pitting Basescu against Prime Minister Victor Ponta, who has led the campaign to unseat the president, is testing democracy in Romania two decades after the overthrow of communist leader Nicolae Ceausescu.
The crisis has stalled policymaking, sent the leu currency to record lows and raised concern in the European Union, which accused Ponta of undermining the rule of law and intimidating judges in the country that has long been criticized for corruption and weak justice.
Parliament suspended Basescu in a decision backed by Ponta's leftist Social Liberal Union (USL) last month.
In the July 29 referendum, 88 percent of those who cast ballots voted to impeach Basescu - but only 46 percent of registered voters took part, fewer than the required threshold of 50 percent of the electorate.
The Constitutional Court will rule on the validity of the vote in a politically-charged decision that was originally due on August 2 but was postponed.
Analysts said a decision to validate the referendum and remove Basescu would be a big shock to the market, causing a harsh sell-off of Romanian assets by financial investors and would mean early presidential elections to go along with parliamentary elections at the end of the year.
Ponta's party would likely be able to consolidate power in these elections, which could bring some later stability.
The court started deliberations at 0700 GMT on Tuesday and will inspect revised voter lists after coming under pressure by the government, which says turnout may have been sufficient if data from a 2011 census were used and more than 3 million people who have died or live abroad were taken off the lists.
"TIGHT SCORE"
Many political analysts say they expect the court to reject the government's argument.
"I expect a tight score in court," said political commentator Mircea Marian. "This will mean Basescu keeps his post but the row between the president and the premier will be prolonged until the autumn (parliamentary) election."
Ponta, who took over three months ago to become Europe's youngest prime minister at 39, has accused Basescu of blocking government policies and turning a blind eye to graft while starting a witch-hunt against rival politicians.
He said he hoped the political impasse would end. "I wish a decision is taken tomorrow and this will practically help close any talk about the political crisis," he said on Monday.
The Council of Europe, a human rights watchdog, said the court had come under "shocking" political pressure ahead of its ruling and had appealed to the council for protection.
Basescu, a former oil tanker captain and president since 2004, accused the USL of trying to stage a coup and take control of independent institutions.
The conservative politician has grown unpopular due to wage cuts and tax hikes he backed under two financing deals with the International Monetary Fund, signed in 2009 and 2011.
The country of 19.5 million, the European Union's second-poorest member, briefly dipped into a recession in the first quarter and the political turmoil has further hurt investor confidence.
The IMF has said the government needs to impose a string of austerity and privatization measures by the end of September to keep a 5 billion euro stand-by loan deal on course.
Ponta said he would accept a decision made by at least six members of the nine-strong court, but did not elaborate on other possible scenarios. "If six decide to declare the referendum invalid ... then Basescu returns to his post," he said.
However, analysts said the court is more likely to make a 5-4 decision in Basescu's favor, leaving room for more bickering over the president's position.
REUTERS