Alison-Madueke Dispels Possibility Of Fuel Scarcity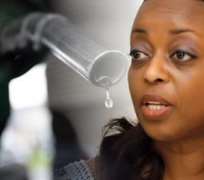 ...Says Reserves Can Last Six Weeks
ABUJA, August 16, (THEWILL) – Fears of yet another period of fuel scarcity are unnecessary because the nation has enough fuel in its reserves to last 40 to 45 days, minister of petroleum resources, Mrs. Diezani Alison-Madueke, has said.
Alison-Madueke made this clarification at the inaugural meeting of the newly constituted Board of the Nigerian National Petroleum Corporation (NNPC).
She explained that the artificial hitch in distribution currently experienced has no link with shortage in supply but unresolved issues between the Ministry of Finance and petroleum marketers, and expressed optimism that the issue would be resolved soon.
Speaking at the inaugural meeting of the NNPC Board, which she also chairs, Alison-Madueke congratulated the members and urged them to join hands and work towards helping the Corporation realize its ambition of becoming a world-class oil and gas company.
"Your appointment to the Board is a call to duty, which also requires the support of NNPC top management in steering the Corporation in the desired direction," she told the board members.
"The Corporation has made some strides in the areas of increase in crude production, unprecedented increase in gas supply to meet power demand, aggressive revamp of refineries and introduction of measures to ensure safety and security of pipelines and called on the board members to ensure that these gains are sustained and built upon."
Board members present at the meeting include NNPC GMD, Engr. Andrew Yakubu; the permanent secretary of the Ministry of Finance, Mr. Danladi Kifasi; the group executive director, corporate services, NNPC, Dr. Peter S. Nmadu; and the group executive director, GED Finance & Accounts, NNPC, Mr. Bernard O. N. Otti.
Other members of the new Board inaugurated at the meeting include Mr. Steven Oronsaye, former head of civil service; Prof. Olusegun Okunnu; Alhaji Abdullahi Bukar; Mr. Daniel Wadzani; and the company secretary/legal adviser, Mr. Anthony C. Madichie.