Ogonis Mourn with "Fellow Ghanaians"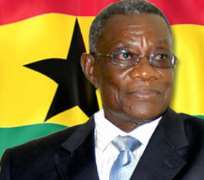 I accept the inevitability of death, but the death of Ghanaian President John Atta Mills; I regard as an African tragedy because of his democratic example.
Vice President John Mahama's inauguration shortly afterwards proves that Ghanaians understand that public office is not a personal property or an ethnic entitlement.
This reflects Mills' politics, which put nation before self during his three attempts at the presidency.
When Ogonis escaped brutal persecution by corrupt Nigerian rulers, we accepted Ghana as our home under former President Jerry Rawling.
Ogoni People today mourn with "our fellow Ghanaians."
Dr. Goodluck Diigbo
MOSOP President / Spokesman