A Pastor Is Sleeping With My Wife And He's My Uncle: WHAT CAN I DO?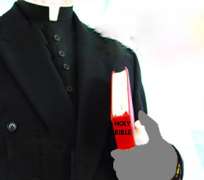 Am seeking for constructive advise on the best way for him to handle this very disgraceful situation that is going on in his family. Please lets help him out, for a friend in need is a friend indeed.
His story goes like this...
I stayed with my Uncle in lagos, he has a church in Ogudu Ojota. Around late 90 I have a lady and we courted for 6 years b4 we wedded in 2002. Up till now no child; sickness upon sickness for this lady.
Last January a pastor asked me to fast and pray, and I fasted and prayed. To my surprise after the prayer, my uncle went to my daddy to confess that he was going out with my wife b4 our wedding and that he even continued till now. I was shocked when my father told me, because this man is a popular pastor.
But I could remember that back then anytime this lady come he always exhibit hatred towards me, in fact he hates me... I don't want to reveal his name and the name of his church. The truth is that I know he was doing all these bad things but I didn't know he would do it with my own wife, taking her to different hotels.
Pls what can I do?