Delays overshadow Nigerian poll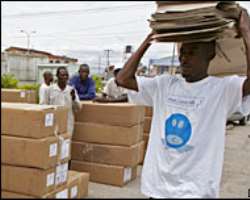 Inec said ballot papers were kept in South Africa to prevent tampering
As Nigerian officials scramble to get delayed presidential ballot papers to polling stations, an attack on election headquarters in Abuja has been made.
Police say a petrol tanker laden with detonators was rolled towards the building in the capital city, but failed to reach its target or explode.
It comes as voting at 120,000 polling stations has been delayed by two hours.
Printing issues meant voting papers for the landmark poll did not arrive from South Africa until Friday evening.
Correspondents said that with a poor transport network it was hard to see how they could be distributed across the vast country in time.
Police say a petrol tanker laden with gas cylinders was used in the failed attack on the electoral commission's headquarters, from which the elections are being co-ordinated.
The BBC's David Bamford in Abuja says that attackers reportedly attempted to roll the unmanned tanker into the building, but that the tanker missed its target.
Though there was a small fire on board, which has since been extinguished, the detonators failed to trigger a large explosion, our correspondent reports.
The tanker crashed into a telegraph pole and came to a halt, police say.
The election should result in the first transfer of power between civilian presidents there since independence.
But the run-up to the poll has been marred by violence - more of which broke out on Friday night - and there have been fears for its credibility after allegations of widespread fraud in last weekend's state elections.
Outgoing President Olusegun Obasanjo said despite flaws, Nigeria could achieve a peaceful and democratic handover of power.
He urged aggrieved candidates and their supporters to "explore all avenues for seeking redress" rather than resorting to "jungle justice" in the aftermath of the vote.
Polling delay
The Independent National Election Commission (Inec) chairman said the start of polling would be delayed by two hours and would now begin at 1000 (0900 GMT).
Maurice Iwu said 60m ballot papers had had to be printed abroad because it was not possible to do this in Nigeria in just three days.
There was a late adjustment on Monday, when Vice-President Atiku Abubakar obtained a Supreme Court ruling that his name should be added to the presidential contest.
Mr Abubakar is considered one of the leading contenders for the presidency, alongside Umaru Yar'Adua of the ruling People's Democratic Party and former military ruler Muhammadu Buhari.
"We received the ballot papers for presidential and National Assembly elections at about 1800 (1700 GMT) today," Kabiru Ahmed, electoral commissioner for Nigeria's capital city Abuja, told the BBC on Friday.
"So, we are ready for the elections tomorrow morning."
However, it is not clear how Inec planned to distribute the materials across the vast country with a very poor road network and unreliable airport facilities, says the BBC's Senan Murray.

Streets 'deserted'
EU observers say they are concerned about the credibility of the vote after last weekend's flawed state elections.
Unrest before and after those polls left up to 50 people dead.
On Friday evening further violence broke out, when militants attacked the state government house in Bayelsa state in the insecure Niger Delta.
The state governor, Goodluck Jonathan, was caught up in the clashes but was unhurt, AFP news agency reported.
The BBC's Abdullahi Kaura says people he has spoken to in Yenagoa, the capital of Bayelsa, say the streets are deserted and heavy machine gunfire and explosions have been heard.
Nigeria is Africa's most populous country and is one of the world's biggest oil producers. It is of key strategic interest to both the West and the growing economies of the East.
But despite the country's huge oil wealth, tens of millions live in poverty.