Nigeria on alert ahead of elections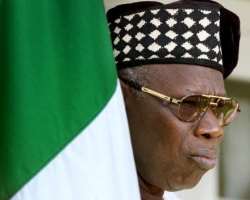 LAGOS, Nigeria --Nigeria's president said Sunday he put security forces on high alert ahead of crucial elections and threatened to "clamp down heavily" on anyone threatening to undermine the vote.
Voters head to the polls Saturday to elect their local and state lawmakers and again a week later to cast ballots for the national legislature and president, a vote meant to give Nigeria its first-ever civilian-to-civilian transfer of power.
Previous electoral transitions in the country - Africa's most populous nation with 140 million people and its largest oil producer - have been interrupted by annulments or military coups.
April is "a month of very critical national choices and decisions that will have very far-reaching consequences," President Olusegun Obasanjo said in a statement.
"The Nigerian police and all other security agencies have therefore been placed on full alert to clamp down heavily on any persons who engage in actions that threaten our collective desire for trouble-free elections in the coming days," he said.
The statement gave no more details.
Clashes between supporters of different candidates have left scores dead in recent months. Obasanjo earlier announced he was increasing the police ranks, while a major weapons shipment had arrived in Nigeria for use by its security forces.
Police and soldiers will guard voting centers amid fears of intimidation and vote rigging on election day. The last election, in 2003, saw widespread irregularities and was rejected by the main opposition parties as flawed.
Tensions have risen in recent weeks after a main opposition candidate, Vice President Atiku Abubakar, was barred from the race by the electoral commission, which said a government panel had found him corrupt.
Abubakar, a one-time Obasanjo ally who fell out with his boss, called the decision politically driven and is fighting his disqualification in the courts.
Abubakar and Obasanjo split last year after the vice president helped quash a drive by Obasanjo's supporters to amend the constitution and allow the president another term in office.
The two other main candidates are Katsina Governor Umaru Yar'Adua, of Obasanjo's ruling People's Democratic Party, and Gen. Muhammadu Buhari, a former military leader.
Obasanjo's 1999 election ended years of military rule and the 2007 vote, if successful, would be Nigeria's first transfer of power between elected leaders in its coup-ridden 47-year independence from Britain.