You Can't Rename UNILAG Yet, Court Tells FG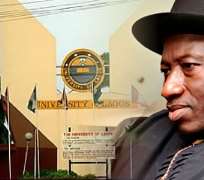 LAGOS, June 25, (THEWILL) – President Goodluck Jonathan's bid to legalise his 29th May renaming of the University of Lagos (UNILAG) after late Chief Moshood Abiola was temporarily scuppered on Monday after a Federal High Court sitting in Lagos issued an interim order against the name change.
Students and members of the alumni association had headed to court, after Jonathan announced the decision on Democracy Day, to file a suit against the Senate and Governing Council of the university, and the attorney-general of the federation and the National Assembly.
Justice Stephen Adah granted the interim injunction against renaming the institution as sought by students and other aggrieved parties. But he adjourned hearing on the suit till 4th July, advising the litigants to harmonise the suits into one.
The renaming of UNILAG after late chief M.K.O Abiola, acclaimed winner of the 1993 presidential elections, sparked days of protests from students of the university. Many staff, alumni, alummae and principal officers were also known to be against it, having been widely reported that even the vice chancellor himself got no wind of the name change until its announcement on television.